Words by Chloe Catajan. Photos courtesy of RADIO.COM. The Raconteurs photos courtesy of David Swanson. Twenty One Pilots photos courtesy of Brad Heaton.

It's that time of year again: colorful lights and ugly sweaters are on full display, loved ones come together, and so do some of the biggest names in music.
Alt 105.3's Not So Silent Night has long been a holiday staple. The annual radio station bash consistently rounds up a solid bill of alternative acts, with this year's more massive than ever. Throngs of music fans sold out the SAP Center last Saturday to see artists who've played major festivals all over the world take a single stage. Tyler Joseph of Twenty One Pilots said it best: "there a lot of headlining bands in one room."
Twenty One Pilots, Mumford & Sons, and The Raconteurs were just half of the artists that rocked the night.
Even with less stage time than usual, Twenty One Pilots put on a performance full of their signature fury. The duo opened with "Jumpsuit" as drummer Josh Dun raised a torch and set fire to a car onstage. Confetti cannons went off once Dun and Joseph broke into the explosive last verse.
"Though our set is not very long tonight, we're gonna give you everything we have—I promise," Joseph said.
Twenty One Pilots treated their set as they would their very own show. There were moments that not even their headlining appearances at Outside Lands and Reading Festival saw. On "Ride," Joseph attempted something new with the crowd, splitting the arena in half and giving them different parts to sing. And before "The Hype," a video clip aired of fans queued in line hours before the show. All were geared in "Bandito" merch and some discussed their love for the band's music.
"They're stories that will stay with me for the rest of my life," one fan said.
"When you like Twenty One Pilots, you have a family," added another, referring to the band's tight knit fanbase.
Twenty One Pilots didn't close by playing their usual song, "Trees," but the duo still gave a compelling sendoff with "Car Radio."
Mumford & Sons filled the arena with their hearty and grand sound. Each member of the English seven-piece played their instruments with sheer precision—their passion for bluegrass and folk, infectious.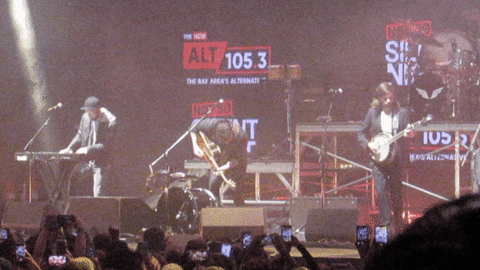 Opening songs "Guiding Light" and "Little Lion Man" introduced powerful guitar parts and lively banjo riffs. Four-part harmonies, especially in the "The Cave," brought out the band's emotive lyrics. While every song had the caliber of a literary masterpiece, the band's stage presence was incredibly lighthearted. Lead vocalist-guitarist Marcus Mumford often set his guitar down, grabbed the mic, and engaged with fans in front. The band, all smiles, led the crowd through high-spirited singalongs.
"It feels like the last day of school," said keyboardist Ben Lovett on the end-of-the-year extravaganza.
"So let's start fucking around!" Marcus interjected.
With a trumpet, a trombone, and a firecracker rhythms section, Mumford & Sons closed with the triumphant, "I Will Wait."
The 1975 took the stage with their latest single, "People," a punk rock wake-up call for the next generation. From there, the Manchester quartet's sound also leaned into '80s synth-pop and indie rock, with much of the newer material focusing on social and political issues.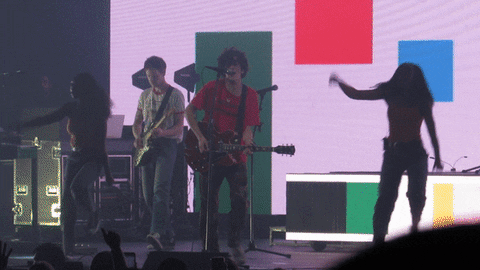 Songs like "Give Yourself A Try" and "Love It If We Made It" started a riot with their cutting energy and upfront lyrics, while "TOOTIMETOOTIMETOOTIME" and "It's Not Living (If It's Not With You)" were certified party-starters that featured dancing from The Jaiy Twins and frontman Matty Healy.
When "Somebody Else" came up, Healy lit a cigarette as the band burned through the heavy-hearted track. They closed with, "The Sound," but then walked back onstage in a serendipitous turn of events.
"Sorry, we still have five minutes left," Healy said as fans cheered to the news of one more song. The band ultimately ended with "Sex."
While spiraling guitar riffs electrified The Raconteurs' set, the Nashville quintet's sound featured all sorts of textures. "Bored and Razed" had a lo-fi finish, "Level" opened with operatic vocals from Jack White, and "Old Enough" was tinged with bluegrass influences. The end result was a curious, eclectic, yet adrenalized performance from the Nashville quintet.
All of this was further intensified when Jack White introduced a consecutive number of songs as "a true story."
"Aren't they all?" he added. But fans were on board for every minute of it, shrieking until the very last song, "Steady As She Goes." The band closed out their 2006 debut single with some playful vocal flair and a grungy extended outro.
Of Monsters and Men assembled onstage to pulsing lights before breaking into a set of mountainous anthems. Big drums and even bigger choruses made songs like "Alligator," Crystals," and "Mountain Sound" soar with uplifting energy.
The Icelandic six-piece's stage presence made the set even more charming.
"This next song goes out to all the horrible dancers out there," vocalist-guitarist Raggi Þórhallsson called out before "Wars." Of Monsters and Men then moved onto their breakthrough single "Little Talks" and concluded with "Six Weeks."
White Reaper kicked off the night with a set of fiery garage punk. But coming through the Kentucky quintet's fueled riffs were bright tones and buoyant melodies. Songs like "Might Be Right" and "Real Long Time" also had searing guitar leads that gave the cuts a classic rock punch.
Follow Last.fm elsewhere: Facebook | Twitter | YouTube | Instagram | Spotify | Soundcloud |Flickr