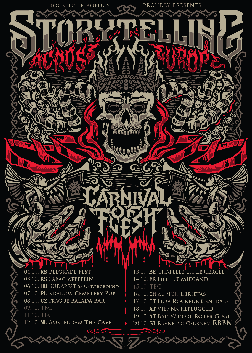 Date
Monday 15 October 2018
Description
Avec le spectacle ambulant qu'est "Storytelling Across Europe", Carnival of Flesh apportent leur sombre point de vue sur la cupidité humaine, le sacrifice et la souffrance. Attendez-vous à une interprétation complète de leur premier album "Stories From a Fallen World", y compris quelques surprises. Supporterez-vous du black metal symphonique malsain?
Musique: https://song.link/stories
Merch: http://carnivalofflesh.com/#merch
Vidéo: https://youtu.be/DWAZfZm88E0
— SUPPORT —
Toward The Throne est un groupe de Melodic Death Metal originaire d'Alsace (France). Suite à une première démo éponyme (2013) et une tournée avec plusieurs groupes nationaux et internationaux, Toward The Throne est de retour en 2017 avec un premier EP intitulé 'Claiming the Sun, Bringing the Darkness'. Depuis, le groupe écume les scènes, partageant l'affiche notamment avec plusieurs groupes et prépare d'ores et déjà son premier album.
Musique: https://towardthethrone.bandcamp.com/
Merch: https://towardthethrone.bigcartel.com/
Vidéo: https://www.youtube.com/watch?v=Rb0ELjvEquc
PAF et ordre d'appartition à venir
Don't want to see ads? Upgrade Now