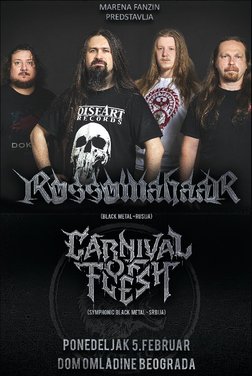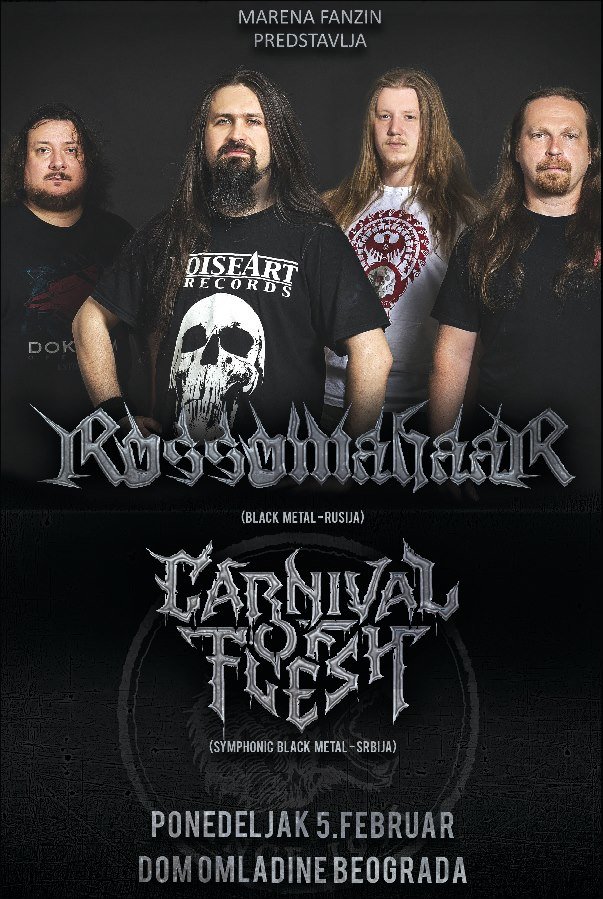 Date
Monday 5 February 2018 at 8:30pm
Location
Dom omladine
Makedonska 22, Belgrade, Serbia
Description
Marena fanzin ponosno predstavlja
Jedan od najznačajnijih ruskih black metal bendova ROSSOMAHAAR nastupiće premijerno u Beogradu, 5.februara 2018.godine u maloj sali Doma omladine Beograda.
Bend Rossomahaar osnovan je 1995.godine. Zahvaljujući svom jedinstvenom stilu za relativno kratko vreme su uspeli da budu prepoznati i van granica svoje zemlje. Iza sebe imaju 4 studijska albuma, a poslednji album "The Reign of Terror" objavljen je 2010.godine.Članovi ovog sastava sviraju i u bendu Arkona - jednom od najvećih metal bendova iz Rusije i miljenika domaće publike. Nakon ogromnog uspeha koji je ostvarila Arkona i brojnih turneja, bend Rossomahaar je stavljen u drugi plan, nastupajući povremeno. Zbog toga je ovaj koncert jedinstvena prilika za fanove u Srbiji da vide ovaj unikatan black metal sastav.
Facebook: http://www.facebook.com/rossomahaar
Website: http://www.rossomahaar.ru/
Kao domaća podrška nastupiće beogradski sympho black metalci Carnival of Flesh.
Bend radi od 2002.godine i iza sebe imaju album "Stories from a Fallen World" objavljen 2015.godine. Carnival of Flesh čini ekipa iskusnih muzičara koji sviraju i u sastavima Temple of the smoke, Instead of a kill, Superhammer…Domaća publika već je imala prilike da ih čuje 2016.godine kada su u punoj sali Doma omladine prezentovali svoj prvenac. Ovo će momcima biti idealna prilika da najave svoju evropsku turneju planiranu za jesen 2018.godine.
Facebook: https://www.facebook.com/carnivalofflesh
Website: http://www.carnival-of-flesh.com/
Karte se mogu kupiti u pretprodaji na svim blagajnama Eventim-a po ceni od 800 dinara, dok će na dan koncerta cena karte iznositi 1000 dinara.
Karte: http://www.eventim.rs/rs/ulaznice/rossomahaar-beograd-dom-omladine-beograda-1015340/performance.html
Don't want to see ads? Upgrade Now