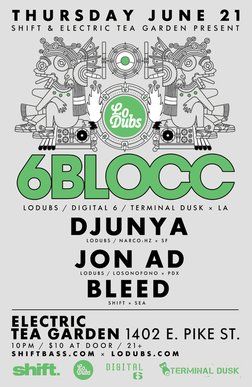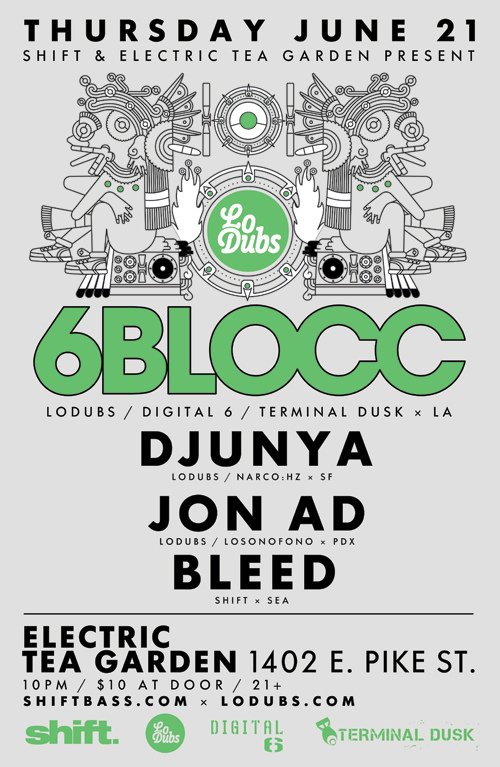 Date
Thursday 21 June 2012 at 10:00pm
Description
NOTICE: DUE TO UNALTERABLE CIRCUMSTANCES, 6BLOCC WILL BE UNABLE TO BE REPATRIATED TO THE U.S.A. IN TIME FOR THIS SHOW. THIS EVENT WILL NOW SERVE AS A BENEFIT FOR 6BLOCC, WITH PROCEEDS GOING TO COVER HIS SIZABLE LEGAL AND PERSONAL EXPENSES RELATED TO HIS MONTH'S DETENTION IN MEXICO.
Details are sketchy at this point, but the long-story-short is he is awaiting a flight from Mexico City home, which is being arranged by one of two U.S. Government agencies operating on behalf of U.S. citizens in Mexico. Initially it was confirmed the flight would be Monday of this week (They even provided a confirmation number) but due to some issue it has been delayed until later this week, meaning he will be free soon, but not in time to appear at these dates, much as he fervently wanted to, both for the principality of keeping true to his obligations to the fans, and to rebuild financially from the expense of his detention.
In light of this, We are reducing the cover to $5 (Or more, if you wish to donate to the cause) . All other performers will be featured, plus a surprise guest, to be announced the night of the show. As it is a benefit for 6Blocc, this night will not only help him get the above issues sorted, but will be a way for us, Artists, Organizers, and Attendees alike to demonstrate our support, and show cause for his next Portland appearance, which if all goes well will surely occur in no time at all.
In addition, R.A.W. and 6Blocc CD's, T Shirts, and Slipmats will be available at the show for purchase in an effort to further the cause.
Thanks,
Jon
_________________________________________________________________________
Thursday, June 21st, LoDubs Records, the Portland based label, with history stretching back to the dawn of Dubstep, and their esteemed counterpart, Shift Recordings of Seattle, unite for one night to bring you several luminaries from their respective rosters, featuring…
6BLOCC - LoDubs, Terminal Dusk, Digital 6 - Los Angeles
http://6blocc.com/
https://www.facebook.com/6BloccOfficial
http://soundcloud.com/digital6
6blocc
The undisputed king of west coast bass. Going back to his Hip Hop heyday of the late 80's, and all the way forward to his sound system destroying dubs circa:now, the man known as 6Blocc (and sometimes R.A.W.) has a passion for the next sound, whilst keeping all those years of party rockin' skills embedded in each productions genome. Case in point, His recent remix of "More Bounce To The Ounce", a G Funk Classic, made new again, which was released last month as a LoDubs/Mad Decent split 12" with Diplo on the flip.
Expect a set filled with devastating dubs, all seamlessly and real style layered together with two decks and a mixer, because that's all this soundman needs to slay the dance....
DJUNYA - LoDubs, NarcoHZ, SF
http://www.djunya.com/
https://www.facebook.com/pages/DJUNYA/239504551305
http://soundcloud.com/djunya
djunya
Joseph .Jr, also known as, Djunya is an eclectic producer focusing on all types of BASS Music. DJUNYA passionately started composing his music at a very young age. He continued to pursue his love for all types of music by studying African percussion and keyboards. Over the years Joseph has played with various live bands and worked on dub/beat projects across the western United States. DJUNYA then began to DJ Drum and Bass heavily in 1999. He was quickly noticed for his ability to program and cut mixes. His producing skills have been captivating listeners for over a decade, and he has continued to move dance floors DJ'ing his Dubbed-out blend of BASS HEAVY BEATS.
DJUNYA has been noticed internationally for DJ'ing sets on various internet & FM radio stations. He has also performed at various Music & Film Festivals including Sundance, Slamdance, Musefest, Versus, Ultra Music Festival, Viram Vs FSOB, Lunadance,Sonic Bloom, Burning Man,Bobolink, Get Freaky, Symbiosis Gathering, Dub_O_Cracy, Lovefest, H. E. N. C. H., Superdubpressure, FreakCamp, SMOG Sessions, Pure Filth, Heavyweight, Sub. Mission, Bassic, Bass Goes Boom, Fire, Shift, and X-Dance.
DJUNYA's live mixes and sound productions cover the spectrums of deep moody basslines to etheric atmospheres. His influences range from Reggae, Hip-Hop, Downtempo, Drum & Bass, and 2-step. DJUNYA's sound palette is ever expanding as he continues to work with artists, producers, and traditional musicians. His music has been featured on short films, websites, animations, and documentaries.. Currently working on collabs, remix's and debut LP
JON AD - LoDubs, losonfono, Anthem Records – Portland
http://lodubs.bandcamp.com/
http://losonofono.bandcamp.com/
http://anthemrecords.bandcamp.com/
http://soundcloud.com/lodubsrecords
lodubs
Jon AD is founder of the labels losonofono (Chicago house/Skweee) and LoDubs, America's Premier Dubstep label, which was founded in the winter of 2006.
Elements of Jon AD's DJ sets may include each, or all of the above. He is a founding member of the longest running Dubstep night in Portland, Oregon, Various, in addition to the Dancehall/Dubstep night Version, and has maintained residencies in San Francisco and Milwaukee/Chicago when residing in those cities
LoDubs is not your ordinary dance music imprint, nor is Jon A.D. a young upstart. The label is run from inside Anthem Records, a record store (and label of the same name) that Jon owns, and which specializes in limited-edition metal, noise, and drone releases. This may seem contradictory, but Jon sees a strong connection between metal, noise, and dubstep. "Dubstep is so much about drum structures. And when you increase the air and rhythm in tracks, that allows drone and other frequencies to come out. Scorn's stuff is very metal, and Burial and Boxcutter have some of those elements as well."
The history of Jon AD reads a bit like a peoples history of innovative electronic music in the United States. Born in Eugene, Oregon, and from a young age attracted to all aspects of sound, it was in his teens that he first discovered Electronic music, and realized that it had as visceral of elements as Punk Rock when combined with heavy amplification.
LoDubs has emerged as among the strongest in a short list of labels representing bass driven music in the US, and arguably the only one largely representing artists from North and South America, with over 20 releases from artists as far north and Toronto and as far south as Venezuela, in addition to those from the UK, Germany, Japan, etc.
The future will see Jon AD and LoDubs continuing to blur the lines between what is one genre or the other, be it through the releases, The multi genre monthly founded by Jon AD, Monkeytek, and Ryan Organ in 2006 known as Various, and/or through his DJ sets.
PLUS SHIFT SUPPORT:
BLEED
https://www.facebook.com/bleed.shift
http://shiftbass.com/releases/shiftdigi021-bleed/
Shift Recordings