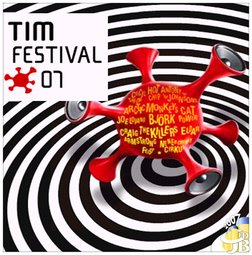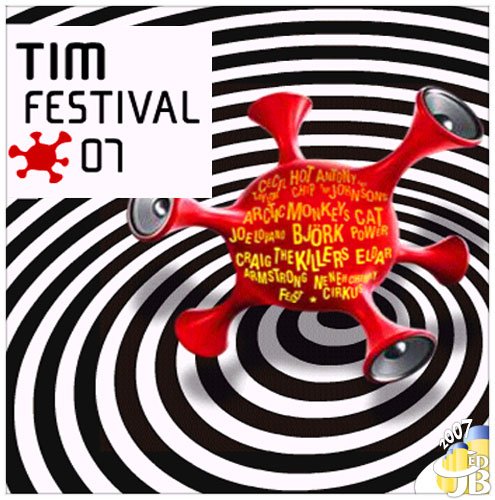 Date
Thursday 25 October 2007 — Sunday 28 October 2007
Location
Arena Anhembi
Av. Olavo Fontoura, 1.209 - Santana, São Paulo, 02012-021, Brazil
Tel: (11) 2226-0400
Web: http://www.anhembi.com.br
Description
Sem surpresas, o Tim Festival divulgou nesta terça-feira (21) sua programação completa e confirmou as principais atrações que foram anuciadas nos últimos meses. O evento acontece em quatro capitais brasileiras e vai trazer um total de 39 nomes no mês de outubro próximo.
A organização do festival já havia confirmado a presença de nomes como a da islandesa Björk, do grupo inglês Arctic Monkeys e do norte-americano The Killers, das cantoras Cat Power (que vem acompanhada da Dirty Delta Blues) e Feist, de Anthony and the Johnsons e do DJ Girl Power, além da banda inglesa Hot Chip. Outras atrações são Spank Rock, o DJ Diplo, além dos nacionais Vanguart, Montage e Del Rey e as cantoras Cibelle e Katia B.
Entre os nomes de jazz estão o experimental Cecil Taylor, Joe Lovano Nonet, Conrad Herwig's Latin Side Band, Sylvain Luc Quartet e o Stepano Di Battista Quartet.

A organização fez divisões temáticas. Os palcos ganharam os nomes de "Novas divas", com as cantoras que vêm se destacando, e "Mash-up", que traz Girl Talk e Spank Rock.
O festival vai ser realizado entre os dias 25 e 31 de outubro nas cidades de Rio de Janeiro (onde será vista a programação principal), além de edições especiais em São Paulo, Curitiba e Vitória.
Os cariocas conferem o festival novamente na Marina da Glória, os paulistas têm os shows divididos entre o Auditório Ibirapuera e a Arena Skol Anhembi, os curitbanos assistem na bela Pedreira Paulo Leminski e os capixabas terão suas apresentações no teatro da Universidade Federal do Espírito Santo.
Confira a programação completa:
RIO DE JANEIRO – Marina da Glória
26 de outubro (sexta-feira)
Jazz US (20h)
• Joe Lovano Nonet
• Joey DeFrancesco Trio e convidado especial Bobby Hutcherson
• Cecil Taylor
• Conrad Herwig's Latin Side Band
TIM Volta (20h)
• Antony and The Johnsons
• Björk
Novas Divas (22h30)
• Katia B
• Cibelle
• Feist
• Cat Power and Dirty Delta Blues
Novo Rock UK (23h30)
• Hot Chip
• Arctic Monkeys
Novo Rock BR (1h)
• Vanguart
• Montage
• Del Rey
27 de outubro (sábado)
Euro Jazz (20h)
• Eldar
• Roberta Gambarini Quartet
• Sylvain Luc Quartet
• Stepano Di Battista Quartet
Novo Rock US (20h)
• Juliette and The Licks
• The Killers
TIM Cool (22h30)
• Projeto Axial
• 'Winona' featuring Craig Armstrong and Scott Fraser
• cirKus com Neneh Cherry
TIM Festa / TIM na Pista (1h)
• Alexandre Herchcovitch e Johnny Luxo
• MOO
• Guab
TIM Festa / TIM Disco House (1h)
• Lindstrøm
• Toktok
TIM Festa / Funk Mundial (1h)
• MC Gringo
• Daniel Haaksman
• DJ Sandrinho
• Count of Monte Cristal (Hervé) & Sinden
• Diplo
• DJ Marlboro
TIM Festa / TIM Mash Up (1h)
• Spank Rock
• Girl Talk

SÃO PAULO – Auditório Ibirapuera
25 de outubro, quinta-feira, 20h30
• Toni Platão
• Cat Power and Dirty Delta Blues
• Antony and the Johnsons
26 de outubro, sexta-feira, 20h30
• Eldar
• Roberta Gambarini Quartet
• Sylvain Luc Quartet
• Stepano Di Battista Quartet
27 de outubro, sábado, 20h30
• Katia B
• Cibelle
• Feist
28 de outubro, domingo, 20h30
• Joe Lovano Nonet
• Joey DeFrancesco Trio e convidado especial Bobby Hutcherson
• Cecil Taylor
• Corad Herwig's Latin Side
29 de outubro, segunda-feira, 20h30
• 'Winona' featuring Craig Armstrong and Scott Fraser
• cirKus com Neneh Cherry
SÃO PAULO – The Week (TIM Festa)
26 de outubro, sexta-feira, 23h
• Girl Talk
• Count of Monte Cristal (Hervé) & Sinden
• Daniel Haaksman
• Lindstrøm
• Alexandre Herchcovitch e Johnny Luxo
SÃO PAULO – Arena Skol Anhembi
28 de outubro, domingo, 18h30
• Spank Rock (18h30)
• Hot Chip (19h30)
• Björk (21h)
• Juliette and the Licks (23h)
• Arctic Monkeys (0h)
• The Killers (1h)
VITÓRIA – Teatro UFES
27 de outubro, sábado, 20h30
• Paulo Moura e Samba de Latada
• Joe Lovano Nonet
28 de outubro, domingo, 20h30
• Feist
• cirKus com Neneh Cherry
29 de outubro, segunda-feira, 20h30
• Eldar
• Roberta Gambarini Quartet
CURITIBA – Pedreira Paulo Leminski
31 de outubro, quarta-feira, 19h
• Hot Chip (19h)
• Björk (20h30)
• Arctic Monkeys (22h)
• The Killers (23h45)
Preços de São Paulo
$200 inteira
$400 inteira VIP
Don't want to see ads? Upgrade Now