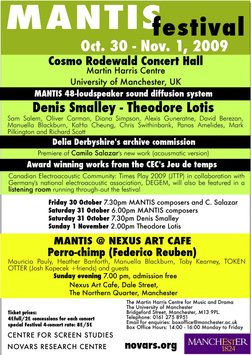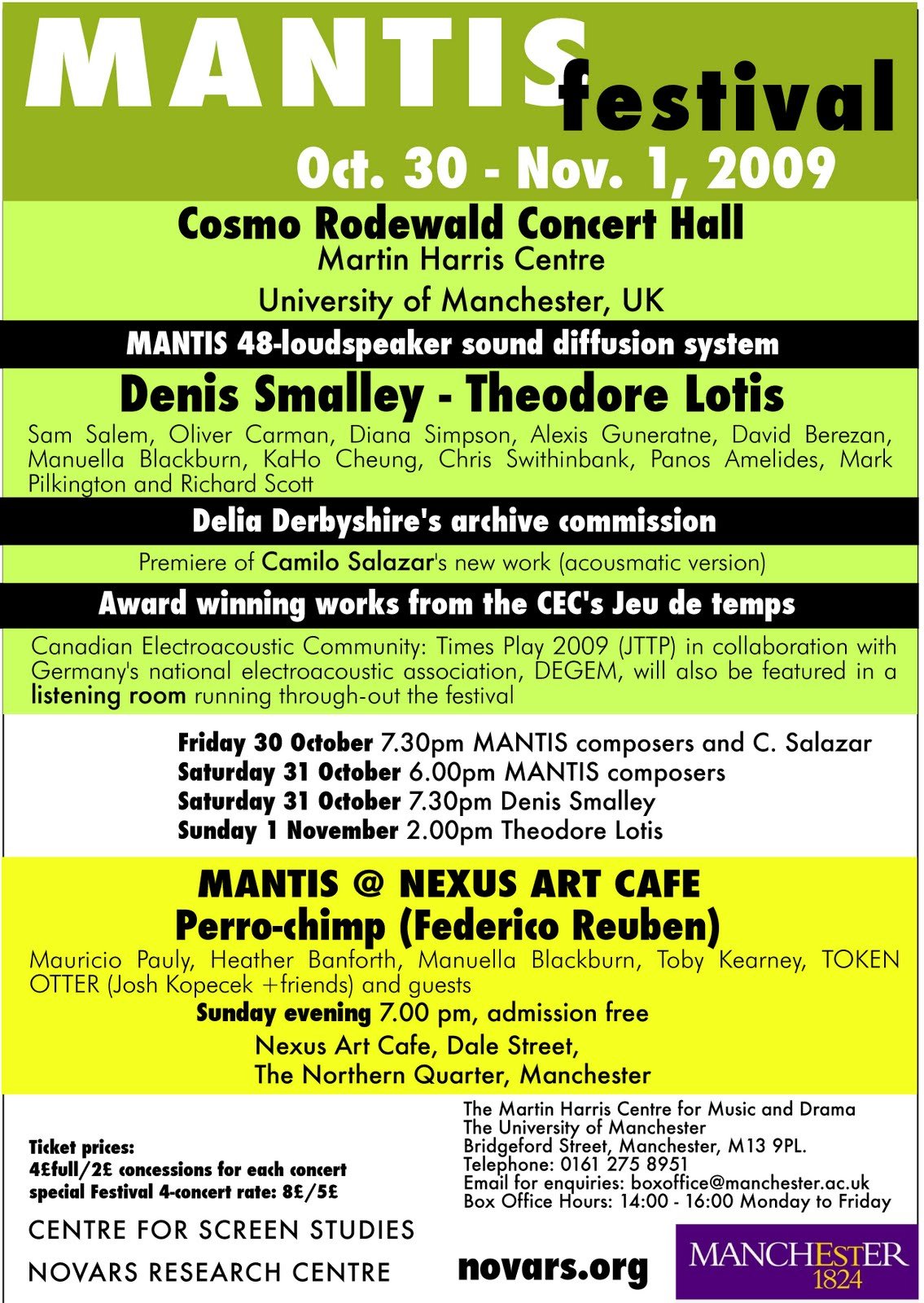 Date
Friday 30 October 2009 — Sunday 1 November 2009
Description
MANTIS (Manchester Theatre in Sound) presents a weekend of electroacoustic concerts featuring works by guest composers Denis Smalley (UK/New Zealand), Theodore Lotis (Greece) and MANTIS composers (including Sam Salem, Oliver Carman, Diana Simpson, Alexis Guneratne, David Berezan, Ricardo Climent, Manuella Blackburn, KaHo Cheung, Chris Swithinbank, Panos Amelides and Richard Scott) based at the NOVARS Research Centre.
The concerts feature the MANTIS 48-loudspeaker sound diffusion system for an exciting and immersive listening experience.
Concerts:
* Friday 30 October 7.30pm - MANTIS composers
* Saturday 31 October 6.00pm - MANTIS composers
* Saturday 31 October 7.30pm - Denis Smalley
* Sunday 1 November 2.00pm - Theodore Lotis
* Sunday evening - MANTIS IN MOTION! @ Nexus Art Cafe
An exciting Sunday evening concert at the Nexus Art Cafe in town will showcase collaborative work with another MANTIS special guest, Federico Reuben and a group of MANTIS composers.
Award winning works from the Canadian Electroacoustic Community's Jeu de temps / Times Play 2009 (JTTP) in collaboration with Germany's national electroacoustic association, DEGEM, will also be featured in a listening room running through-out the festival.
Ticket prices (Martin Harris Centre)
4£ full/2£ concessions for each concert
Special Festival 4-concert rate: 8£/5£
The Martin Harris Centre for Music and Drama
The University of Manchester
Bridgeford Street, Manchester, M13 9PL.
Telephone: 0161 275 8951
Email for enquiries: boxoffice@manchester.ac.uk
Box Office Hours: 14:00 - 16:00 Monday to Friday
Don't want to see ads? Upgrade Now