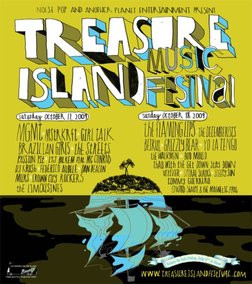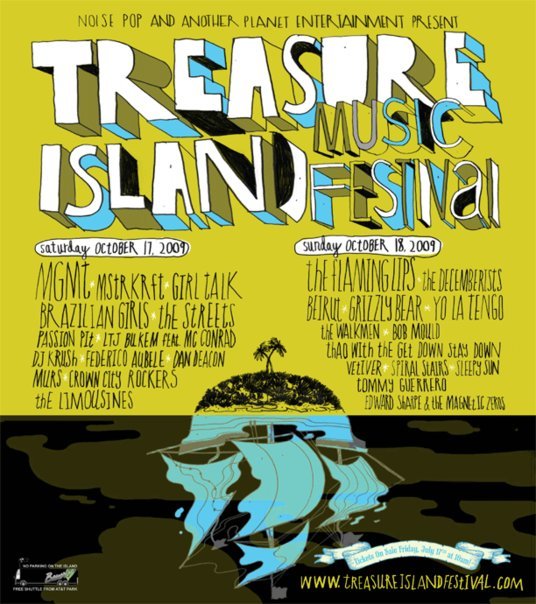 Date
Saturday 17 October 2009 — Sunday 18 October 2009
Location
Treasure Island
San Francisco, United States
Description
Set against panoramic views of the city by the bay, Treasure Island Music Festival will stick true to form in offering an electronic and dance centric lineup on Saturday, October 17th and an indie rock lineup on Sunday, October 18th. With two stages and no overlapping sets, fans can enjoy every note of every act.
Tickets are available for purchase now at treasureislandfestival.com.
Single Day Ticket - $65.00
Advance Two-Day Ticket - $115.00
VIP Single Day 2-Pack - $249.99
Includes 2 VIP tickets to one day, 1 parking spot on island, preferred viewing area with bleachers, lounge with full bar and other amenities. Limited Availability.
Additionally, starting Monday, August 10th, tickets will be available for purchase for a nominal fee at the Independent box office, located at 628 Divisadero Street in San Francisco. Their phone number is 415.771.1421.
* Due to traffic congestion we ask that you do not park on island, unless you have purchased a VIP 2-Pack. Included in the Single Day and 2-Day ticket price is complimentary parking at Lot A at AT&T Park (San Francisco) with transportation to/from the island.
** Your ticket to the Treasure Island Music Festival includes a license to park one automobile in Lot A at your risk. Lock your car. The licensor hereby declares it is not responsible for fire, theft, damage to or loss of such automobile or any article left therein, only a license is granted and no bailment is created.
Add $1 or $2 to "Green" your ticket and help offset the Treasure Island Music Festival's carbon dioxide emissions. All money collected will go towards renewable energy and reforestation programs.
Don't want to see ads? Upgrade Now