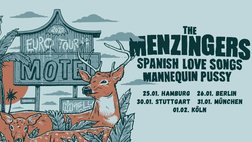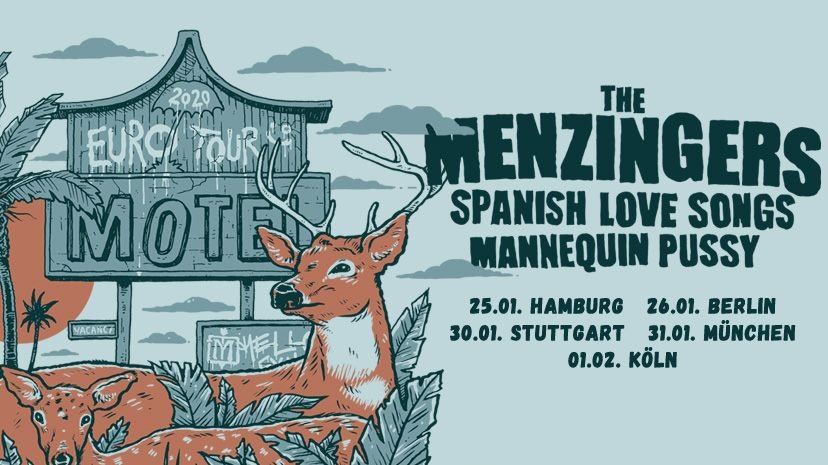 Date
Sunday 26 January 2020 at 7:30pm
Location
Bi Nuu
Schlesisches Tor 1, Berlin, 10997, Germany
Tel: +49 3069566840
Web: http://www.bi-nuu.de
Description
THE MENZINGERS
plus special guests Spanish Love Songs & MANNEQUIN PUSSY
präsentiert vom VISIONS Magazin, PITcam und StarFM
26.01.2020 Berlin - Bi Nuu
Einlass: 18:30 Uhr
Beginn: 19:30 Uhr
Hello Exile. So lautet der Titel des neuen Langspielers der aus Philadelphia stammenden Punk-Rock-Band THE MENZINGERS. Das mittlerweile sechste Studioalbum folgt dem äußerst erfolgreichen "After the Party" (2017), welches in so ziemlich jeder Jahres-Bestenliste einschlägiger Musikmedien (Noisey, Clash, Stereogum, ...) vertreten war. Entsprechend hoch sind nicht nur die Erwartungen der Fans, sondern auch die Ansprüche der Band an sich selbst.
Sechs Wochen - so lange wie noch nie - haben THE MENZINGERS zusammen mit Produzent Will Yip (Mannequin Pussy, Quicksand, ...) im Studio verbracht. Das war laut Sänger Greg Barnett auch nötig, um die perfekte Balance zwischen Sound und Story zu finden. Einer Story über Vergangenheit und Gegenwart: Scheiße bauen in der Schule. Turbulente Beziehungen. Altern. Alkohol. Politischer Verdruss.
Obwohl die Songs von THE MENZINGERS häufig schmerzhafte Wahrheiten ansprechen und einen gewissen melancholischen Unterton haben, bleibt auch auf "Hello Exile" der unbezähmbare Geist und Lebenswille erhalten, der diese Band so attraktiv macht.
THE MENZINGERS stellen ihr neues Werk im Januar und Februar in fünf deutschen Städten vor. Tickets gibt es ab Freitag, dem 19.07. um 10:00 Uhr auf www.x-why-z.eu, ticketmaster.de und an vielen weiteren Vorverkaufsstellen.
Don't want to see ads? Subscribe now