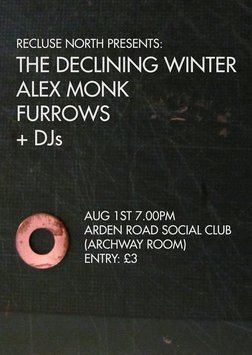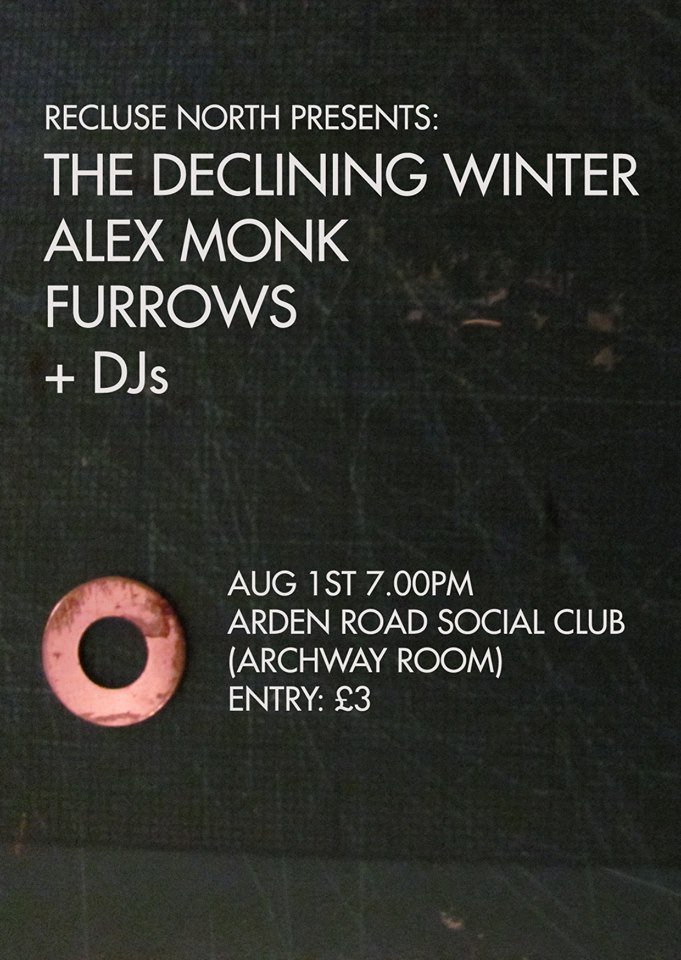 Date
Saturday 1 August 2015 at 7:30pm
Location
Fuse Art Space
Bradford, United Kingdom
Description
Recluse North a new adventure focusing on folk, electroacoustic, abstract and improvised sonics presents... The Declining Winter, Alex Monk and Furrows + DJs. Saturday 1st August, £3 entry on the door, last train from Halifax friendly...
The Declining Winter are a British band based in Yorkshire led by Richard Adams, the co-founder of the Domino Records group Hood. Expect warmly produced, forward-thinking, melancholic English music referencing Talk Talk, Bark Psychosis, Robert Wyatt, Radiohead and of course Adams' former buddies Hood.
Alex Monk draws on both the 60s and 70s acid folk movement as well as ambient and electronic experiments. His first records were greatly influenced by the instrumental ,ambient style but at the time of his release "The Safety Machine " (2011 ) he moved more into a song based and guitar dominated universe where the raw and improvised meets the dreamy, trippy and ghostly. References to early Eno, Coil, Robert Wyatt and Islaja have been made and Alex Monk is ready with a new release 'Fragments of lost rivers'.
Furrows is a duo made of Essex based Stuart Bowditch aka Hybernation and Nick Dawson whom together plough a sonic trench born from electronic improvisation.
Don't want to see ads? Upgrade Now