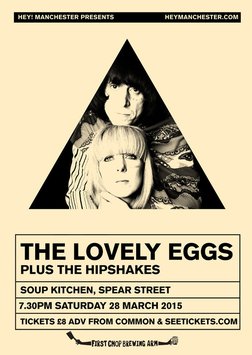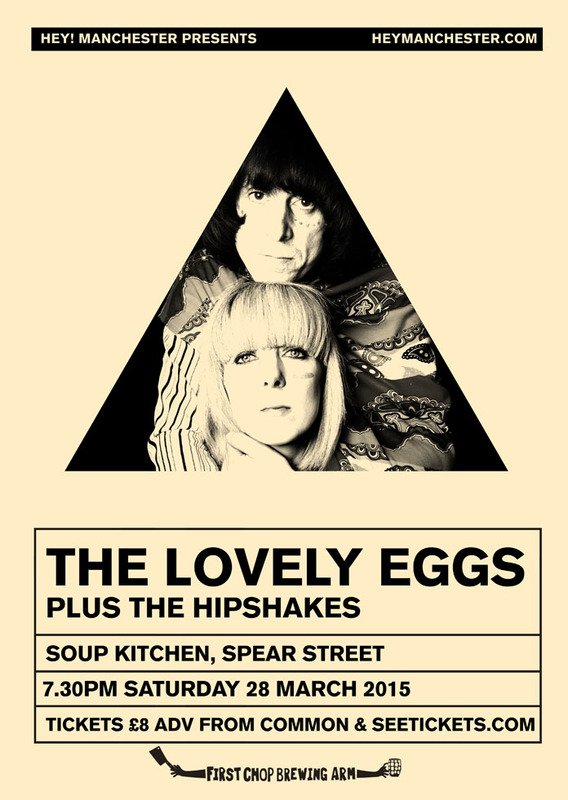 Date
Saturday 28 March 2015 at 7:30pm
Description
The Lovely Eggs are an underground punk rock duo from northern England. They have a fierce punk rock ethos that music should have no rules. For Holly and David being in a band is a way of life. True to this, they live the way they play. Fiercely, constantly in search of the good times. With observational and often surreal lyrics about life The Lovely Eggs have a powerful stripped-down sound: one vintage guitar amp, one Big Muff distortion pedal, a guitar and a drum kit.
With releases in the UK, Europe, USA and Japan, The Lovely Eggs have played hundreds of gigs around the UK, USA and Europe supporting the likes of Half Japanese, Shonen Knife, The Slits, The Television Personalities and Art Brut as well as a two-month tour of America and a string of dates at SxSW in Austin, Texas.
The Lovely Eggs have recorded sessions for BBC Radio 1, BBC 6 Music and XFM as well as being played by a host of UK DJs including Radio 1's Huw Stephens and Rob da Bank and 6 Music's Marc Riley, Steve Lamacq, Tom Robinson, Gideon Coe, Chris Hawkins, Tom Ravenscroft and XFM's John Kennedy.
Holly (guitar/vocs) and David (drums/vocs) have also worked with comedian Graham Fellows (aka John Shuttleworth) as well as Jad Fair from the seminal Texas band Half Japanese. Their songs appear in Canadian film Molly Maxwell and have been sampled by Zane Lowe for Scroobius Pip.
This year sees The Lovely Eggs return with their fourth self-produced and self-recorded album, This is Our Nowhere; a title that sums up their celebration and love of a scene which doesn't exist in the eyes of the manufactured mainstream. Lead single Magic Onion (made in collaboration with artist and video director Casey Raymond) is to be released on the Cardiff-based D.I.Y. Flower of Phong label.
Support comes from The Hipshakes. May sees the release of their 2nd and 3rd LPs, with the 4th recorded and due soon.
Price: £8 adv
More info
Don't want to see ads? Upgrade Now