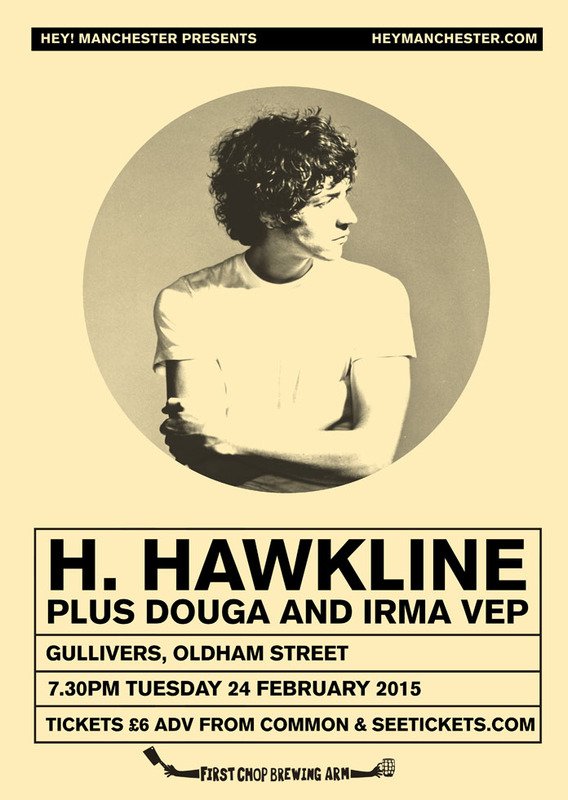 Date
Tuesday 24 February 2015 at 7:30pm
Description
In The Pink Of Condition – H. Hawkline's first record for the irrepressibly brilliant Heavenly Recordings – is a transportational record. Through twelve tracks, it folds the space between a pinched grey seaside town in North Wales and the bleached-out wide-open spaces of the City of Angels. In doing so, it creates a glorious hybrid environment – one where a rundown, rough and tumble branch of Pontins could occupy the space once reserved for the Disney castle and where 'spooky dogs' wait for you around corners, their 'two eyes set in a lick of fog'.
Shot through with the blues, the reds and the golds, the greens and the wispy white clouds that hang lazy over the rolling Pacific, In The Pink Of Condition truly marks Huw Hawkline's arrival. His first album proper for Heavenly Recordings, it blossoms with all the charm, beauty, wit and wonder that's been hinted at over the last few years across the artist's limited run releases, singles and EPs and adds a brilliantly clear-eyed focus.
A few words of background. Huw Hawkline was born in Cardiff and raised in sunny Prestatyn, a seaside town famous for the aforementioned Pontins holiday camp and the first ever branch of Kwik Save. Formerly co-presenter of S4C's flagship music show Bandit (alongside BBC Radio 1's Huw Stephens), 29-year-old Huw recorded three albums in his native country (2010's A Cup Of Salt, 2011's The Strange Uses Of Ox Gall and the 2014 collection Salt Gall Box Ghouls) before taking flight for a life in LA late in 2013. (Well, you would if you could, wouldn't you?)
Main support comes from Douga. The group have built their debut album, 2014's The Silent Well, on the foundations of their love of kosmische music, through rhythmic repetition and psychedelic drones.
Opening the show is Irma Vep, the nom de bum of Llanfairfechan-born, Manchester-based musician/dancer Edwin R. Stevens.
Price: £6 adv
More info
Don't want to see ads? Upgrade Now