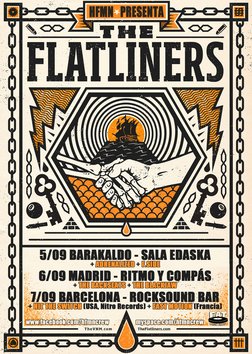 Date
Tuesday 6 September 2011 at 8:30pm
Description
HFMN CREW PRESENTA:
THE FLATLINERS
*Por primera vez en España la joven promesa de FAT Wreck Chords*
http://www.theflatliners.com
Antes de todos los breakdowns, tatuajes, dilataciones y los flequillos planchados, el punk-rock solía ser sobre guerreros demacrados de la carretera. THE FLATLINERS crecieron pensando en el futuro rechazando las modas que nos envuelven y, tras siete años tocando juntos, nos presentan "Cavalcade", su tercer disco completo y un épico testamento sónico a la vida que han elegido.
Estos últimos 4 años, The Flatliners se han pasado casi 30 meses en furgonetas, salas de conciertos y comiéndose horas y horas de carretera recorriendo el mundo entero. Han logrado construir y consolidar su sonido que mezcla la furia y rabia del skate-punk de la década de finales de los 90 junto con las inteligentes letras de clásicos grupos de post-punk como Hot Water Music o The Replacements. Tras sacar su primer trabajo "Destroy to Create" (disco más del rollo ska-punk macarra a lo Choking Victim) en el 2005, el grupo ha evolucionado a una máquina de melodía áspera con su "The Great Awake" (FAT Wreck) en 2007. "Cynics" 7'' completa su transición a una unidad de punk moderno a finales de 2009.
Para "Cavalcade", The Flatliners decidieron reagruparse con el veterano productor y amigo Steve Rizun, grabando esporádicamente entre giras y festivales en su ciudad natal de Toronto, a lo largo del 2009. Buscando inmortalizar su último año de vida en la carretera, el resultado final es sin duda el mejor trabajo del grupo a día de hoy; desde la inmediatez y rabia de "The Calming Collection" pasando por "He Was a Jazzman" con influencias más propias del dub. Es el sonido de la progresión musical así como encontrándose líricamente, explorando la idea de unidad y positividad en estos tiempos de incertidumbre. Son numerosas las apariciones de grupos invitados en la grabación de su último disco; Cancer Bats, A Wilhelm Scream, Dillinger Four, The Snips, Junior Battles, Permanent Bastards y The Expos, todos aportaron su ganito de arena en el resultado final de "Cavalcade". A todo esto añadir que el veterano Fat Mike voló para tocarse unos temas con ellos en Noviembre de 2009, añadiendo un plus a la productividad del grupo y cumpliendo uno de los sueños de la adolescencia del grupo.
The Flatliners han hecho muchos sacrificios por mantener las ruedas de su furgoneta en la carretera y "Cavalcade" es la recompensa. Realmente es, según palabras del grupo: "un llamamiento a todo aquel que haya recorrido el mundo sobre las alas de su creatividad".
Sus próximas fechas en la península serán:
- 5 Septiembre 2011 @ Barakaldo - Sala Edaska - 19:30H
+ ADRENALIZED + F.SIDE
Precio anticipada 12€ - Precio taquilla 14€
Entradas disponibles en Streetwarriors, venta online: http://fekalcriuchous.bigcartel.com
Last.FM: http://www.last.fm/event/1950088
- 6 Septiembre 2011 @ Madrid - Ritmo y Compás - 20:30H
+ THE BACKSEATS + THE BLACKJAW
Precio anticipada 10€ - Precio taquilla 13€
Entradas disponibles en Escridiscos, Tipo Rosa Negra, venta online: www.kulturalive.com
Last.FM: http://www.last.fm/event/1950088
- 7 Septiembre 2011 @ Barcelona - Rocksound Bar - 20:00H
+ HIT THE SWITCH (USA, Nitro Records) + FAST MOTION (Francia)
Precio anticipada 10€ - Precio taquilla 13€
Entradas en Daily Records, venta online: www.kulturalive.com
Last.FM: http://www.last.fm/event/1950086
Más info sobre el grupo en:
http://www.theflatliners.com
Más info de esta y muchas otras giras en:
http://www.facebook.com/hardcoreformynose
http://www.myspace.com/hfmncrew
http://www.twitter.com/hfmncrew
http://www.last.fm/user/hfmncrew
Don't want to see ads? Upgrade Now