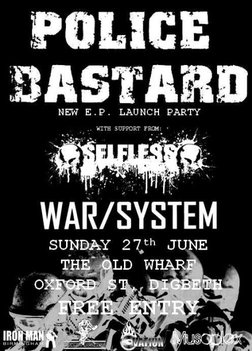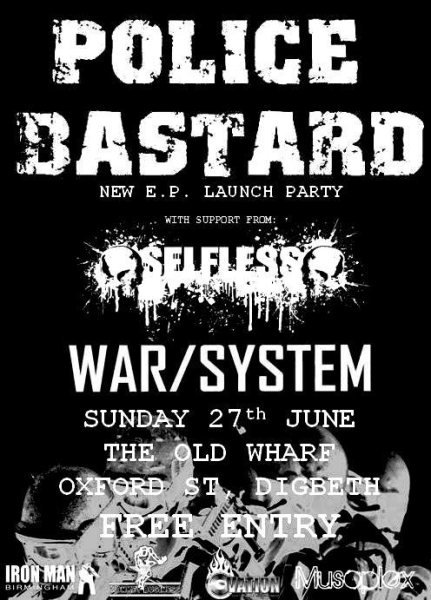 Date
Sunday 27 June 2010 at 8:00pm
Location
The Old Wharf
21 Oxford St., Digbeth, B55NR, United Kingdom
Description
Iron Man Records, Monkey Business, Ovation Music Management, Musoplex Studios and Badger Promotions are proud to present a Money Burning Live Music festival of Punk, Metal and Crust Music:
Police Bastard will be playing songs from the new CD "It's Good To Hate....." (Iron Man Records 2010) and a selection of tunes from Traumatized and perhaps a few choice covers too. Selfless will be supplying addicts with some 4 piece insane politically and socially charged hardcore punk crust grindcore lying somewhere between Black Flag/Heresy/Discharge…and War/System will be greeting punters with their own brand of political punk metal crust. The band sound like a mixture of Nausea, Ripchord and Oi Polloi, Antisect, Extreme Noise Terror and Poison Idea.
The gig will be free to get in but we may have to pass a glass round at some point to find some cash to pay the sound engineer.
Please note we hope to film and record the gig and whilst the camera crew have already been instructed to avoid compromising peoples personal freedom by sticking cameras anywhere but at the band on the stage....if you are stupid enough to put your head right into the camera lens you may end up on the finished recordings that may get plastered all over youtube and the rest of the net in future. Please let us know if you are a secret agent or whatever and we will try not to film you on purpose. ok?
Don't want to see ads? Upgrade Now