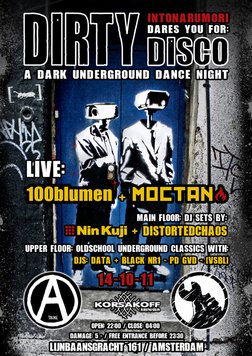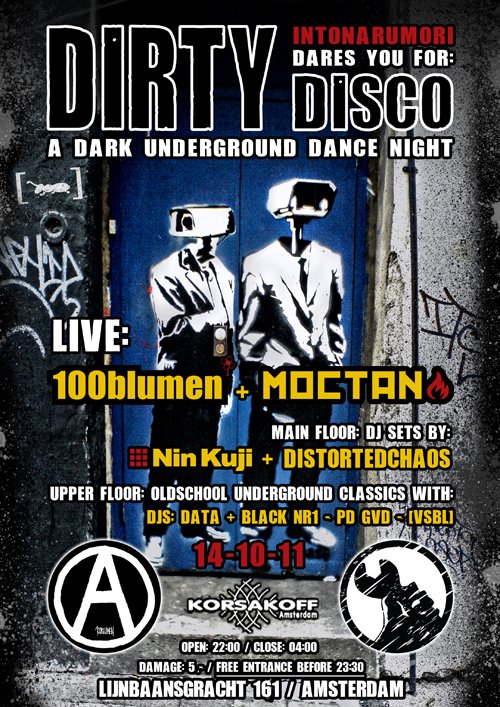 Date
Friday 14 October 2011 at 10:00pm
Description
- Distorted Industrial DIRTY DISCO Beats in Amsterdam -
On October 14 2011 IntonaRumori will host a special edition of DIRTY DISCO. This time we bring Dirty Disco to Amsterdam, shaping club Korsakoff into a dark noisy wasteland where you can go wild, dance hard, get crazy and scratch the walls. The night will be fuelled with heavy dark raw electronic beats n basses.
This Dirty Disco will have 2 live acts with showtime deep in the night. No one less then 100BLUMEN and MOCTAN from Germany will be our guests.
100Blumen is doing Ecstatic Harsh Distorted Punky Noise and Moctan will throw his Industrial Technoid beats over the dance floor so you can dance even more and insane. This all will be hold together with DJ sets by our third guest from Germany, mr. NIN KUJI and local resident DistortedChaos.
Also the second dance floor of Korsakoff will be open where the IntonaRumori resident DJs: PD GVD, Data & Black Nr1 and will spin a challenging mix of old school underground classics. Visuals will be done by: Statik Sky.
Dirty Disco is about letting go, dance and forget about the world.
This party is about you - the club is yours.
Turn off the mind and surrender to the night.
FREE entrance before 23:30. After 23:30 entrance will be 5,- euro.