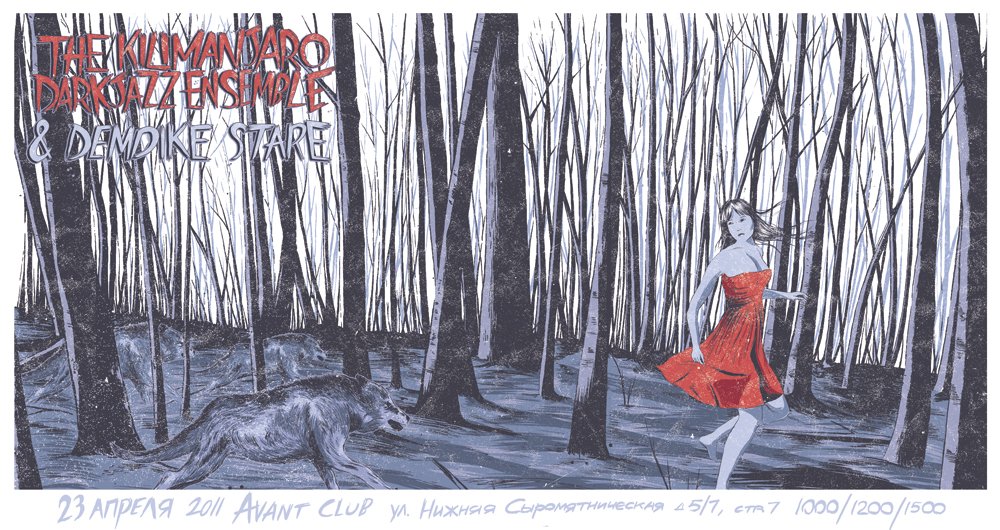 Date
Saturday 23 April 2011 at 7:00pm
Location
Avant Club
ул. Нижняя Сыромятническая, д. 5/7, Москва, 105120, Russian Federation
Tel: (495) 221-22-39
Description
Do-or-Die & Arcto Promo
представляют
http://vkontakte.ru/event23786254
http://facebook.com/event.php?eid=145798982145966
http://lookatme.ru/events/151997
The Kilimanjaro Darkjazz Ensemble создают музыку к не существующим психоделическим анимационным фильмам Яна Шванкмайера и Братьев Куэй, картинам Фридриха Мурнау, Фрица Ланга и Дэвида Линча. Тромбон, пронзительная скрипка, виолончель, гитарные саундскейпы и глубокий бас, чарующие многоголосые вокальные наслоения, прихотливые ударные петли — сочетание живых инструментов и безукоризненной электроники создают уникальное звучание и настроение, затягивающий и обволакивающий психоделический акустический поток с привкусом модерн-джаза, порой предельно жуткий и мрачный, иногда светло-меланхоличный, предвещающий скорый рассвет. Многим очень хочется – и небезосновательно – поставить TKDE в один ряд с Bohren & der Club of Gore, Coil за умение погружать слушателя глубоко в себя, открывая двери в только что созданную специально для него реальность. Одна из самых странных и любопытных европейских околоджазовых групп. В Avant Club голландцы представят свой новый, вышедший в марте альбом From the Stairwell.
http://tkde.net
http://denovali.com/kilimanjarodarkjazz
http://myspace.com/tkde
http://facebook.com/darkjazz
http://twitter.com/tkde_darkjazz
друзья, Demdike Stare не приедут по независящим от нас причинам. в любом случае мы приносим свои извинения всем кто также как и мы надеялся и ждал увидеть этот уникальный проект. мы предлагаем вам ознакомиться с официальным заявлением DS -
• Letter to Arcto Promo and Russian listeners from Demdike Stare : "Dear friends, due to a mistake with bookings, and some difficult logistics with travel to Moscow, we have had to cancel our first ever show. It is with deep regret that we do this, as we are fan's of Russian music, and we have never yet visited Moscow or anywhere in Russia. We are in the process of organizing an exclusive debut show in September with Arcto Promo, and we promise to make this a special show for both Arcto, and Russian fans. This situation is almost completely our problem and mistake, and should not reflect on the professional and enthusiastic Arcto promotion, we hope for your understanding, and look forward to being in Moscow in September."
билеты на концерт можно приобрести в Avant Club за 1000 рублей или через интернет http://concert.ru/Order.aspx?ActionID=21695, за 1200. в день концерта цена увеличится до 1500.
схема проезда: http://avantmusic.ru/usertemplate/1724/map.gif
Don't want to see ads? Upgrade Now