Chiodos
Is It Progression If a Cannibal Uses a Fork?
Join others and track this song
Scrobble, find and rediscover music with a Last.fm account
From The Album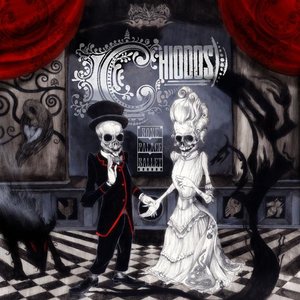 Lyrics
Out of tune this tale of terror.
Scrobble Stats
What is scrobbling?
Scrobbling is when Last.fm tracks the music you listen to and automatically adds it to your music profile.
Recent Listening Trend
| Day | Listeners |
| --- | --- |
| | 15 |
| | 14 |
| | 23 |
| | 19 |
| | 19 |
| | 21 |
| | 13 |
| | 25 |
| | 14 |
| | 8 |
| | 13 |
| | 10 |
| | 27 |
| | 16 |
| | 20 |
| | 28 |
| | 15 |
| | 18 |
| | 23 |
| | 19 |
| | 24 |
| | 16 |
| | 17 |
| | 25 |
| | 20 |
| | 17 |
| | 14 |
| | 14 |
| | 18 |
| | 20 |
| | 19 |
| | 14 |
| | 22 |
| | 20 |
| | 17 |
| | 17 |
| | 13 |
| | 20 |
| | 13 |
| | 18 |
| | 12 |
| | 17 |
| | 26 |
| | 31 |
| | 18 |
| | 29 |
| | 21 |
| | 25 |
| | 20 |
| | 24 |
| | 22 |
| | 24 |
| | 19 |
| | 12 |
| | 12 |
| | 18 |
| | 20 |
| | 18 |
| | 27 |
| | 17 |
| | 19 |
| | 23 |
| | 29 |
| | 20 |
| | 16 |
| | 24 |
| | 10 |
| | 15 |
| | 15 |
| | 19 |
| | 18 |
| | 15 |
| | 20 |
| | 20 |
| | 18 |
| | 18 |
| | 27 |
| | 18 |
| | 17 |
| | 16 |
| | 15 |
| | 15 |
| | 16 |
| | 14 |
| | 21 |
| | 18 |
| | 15 |
| | 11 |
| | 13 |
| | 17 |
| | 17 |
| | 20 |
| | 17 |
| | 18 |
| | 6 |
| | 6 |
| | 19 |
| | 29 |
| | 18 |
| | 18 |
| | 19 |
| | 15 |
| | 17 |
| | 12 |
| | 24 |
| | 28 |
| | 32 |
| | 24 |
| | 17 |
| | 12 |
| | 35 |
| | 31 |
| | 23 |
| | 28 |
| | 23 |
| | 22 |
| | 17 |
| | 35 |
| | 22 |
| | 25 |
| | 28 |
| | 22 |
| | 22 |
| | 16 |
| | 18 |
| | 19 |
| | 18 |
| | 20 |
| | 19 |
| | 17 |
| | 18 |
| | 18 |
| | 32 |
| | 19 |
| | 20 |
| | 22 |
| | 14 |
| | 14 |
| | 29 |
| | 19 |
| | 15 |
| | 27 |
| | 15 |
| | 19 |
| | 21 |
| | 17 |
| | 18 |
| | 17 |
| | 27 |
| | 18 |
| | 29 |
| | 21 |
| | 21 |
| | 17 |
| | 20 |
| | 22 |
| | 22 |
| | 21 |
| | 22 |
| | 21 |
| | 28 |
| | 19 |
| | 19 |
| | 23 |
| | 17 |
| | 20 |
| | 22 |
| | 18 |
| | 20 |
| | 18 |
| | 20 |
| | 22 |
| | 18 |
| | 16 |
| | 21 |
| | 16 |
| | 21 |
| | 13 |
| | 17 |
| | 16 |
| | 29 |