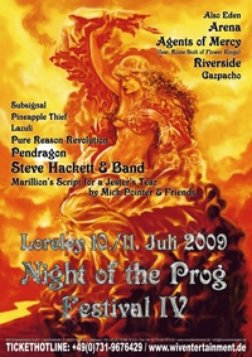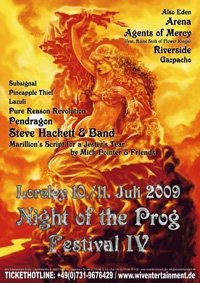 Date
Friday 10 July 2009 — Saturday 11 July 2009
Location
Freilichtbühne Loreley
Freilichtbühne Loreley, Sankt Goarshausen, 56346, Germany
Description
From http://www.wiventertainment.com/projekte/21-tourdaten.html
It took this young festival only 3 editions to raise to one of the leading progressive rock festivals in Europe - or probably even the world. The 3rd Night Of The Prog Festival in 2008 had more than 7.000 attending fans.
Next to the music and bands that have taken part at the festival editions, the main reason for the success is simply the location! The UNESCO world heritage Loreley is one of the most outstanding open air amphitheaters in Europe. High above the river Rhine, the visitors are overwhelmed by the beautiful surrounding area.
By this outstanding ambiente we continue to establish the festival as the "Mekka of Progressive Rock". The hightlights of the past 3 years have been for sure the appearances of Fish, ASIA, Jethro Tull, Roger Hodgson, Tangerine Dream, Klaus Schulze - to name a few.
The tradition to supply a stage for young and emerging artists is one of our major tasks. To give them the chance to play in front of thousands of people will definitely help to create a career.
On July 10th and 11th 2009 the IV. NOTP Festival will take place only on 2 days, due to the fact, that we do not continue to put up an electronic day. This does not mean that this will never happen in the future anymore and it is not limited to electronic. There are also changes that a Metal day could come in, if not in 2009 than the following years.
The first confirmed bands are the leading and founding UK - Neoprogressive Band "PENDRAGON" and and for the first time in 4 years, STEVE HACKETT" will perform with a full electric band. "RIVERSIDE", "LAZULI" and "THE PINEAPPLE THIEF" are the latest acts we can confirm. Further artists will be confirmed in the upcoming weeks and months. Tickets are already on sale at our Ticketshop.
The first "live documents" of the III. NOTP are already released and will help the festival to improve: Klaus Schulze and Tangerine Dream released both a DVD called "Rheingold" and "Loreley Live". These are major steps for us and gives all those an impression, especially to those who haven´t had the chance to visit the festival so far.
Line Up:
Friday 10. July 2009
Also Eden
Arena
tba (to be announced)
Riverside
Gazpacho
Saturday 11. July 2009
Subsignal
Pineapple Thief
Lazuli
Pendragon
Steve Hackett & Band
M. Pointer & Friends - Marillions Script for a Jester´s Show
Don't want to see ads? Upgrade Now