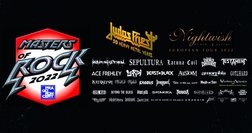 Date
Thursday 7 July 2022 — Sunday 10 July 2022
Location
Areal Likéry Rudolfa Jelínka
Vizovice, Czech Republic
Description
MASTERS OF ROCK 2022
7. – 10. 7. 2022, areál likérky R. Jelínek, VIZOVICE
MASTERS OF ROCK je zpět! Po 2letém covidovém odkladu, se letos v létě všichni sejdeme v důvěrně známém prostředí likérky R. Jelínek ve VIZOVICÍCH a oslavíme návrat rocku a metalu k životu. A bude to pořádná oslava! Headliner festivalu, legendární JUDAS PRIEST zde oslaví své 50. výročí velkou a slavností megashow! Oslav se zúčastní:
Svoji účast už přislíbili tyto kapely:
JUDAS PRIEST, NIGHTWISH, HEAVEN SHALL BURN, SEPULTURA, LACUNA COIL, DEAD DAISIES, TESTAMENT, ACE FREHLEY, LORDI, BEAST IN BLACK, ALESTORM, AMORPHIS, GOTTHARD, KATAKLYSM, ORDEN OGAN, EXODUS, DEATH ANGEL, PINK CREAM 69, VISIONS OF ATLANTIS s Bohemian Symphonic Orchestra Prague, CIVIL WAR, BEYOND THE BLACK, BLUES PILLS, SHAKRA, NERVOSA, HIGH ON FIRE, NOTHGARD, TROLLFEST, LONG DISTANCE CALLING, NEONFLY, MISTER MISERY, SPOIL ENGINE, SHIRAZ LANE, BLACK SONIC PEARLS, ARAKAIN, FLERET, SEBASTIEN, GATE CRASHER a FORREST JUMP.
Vstupenky jsou stále ještě v prodeji, objednávejte je na www.mastersofrock.cz, nebo v sítích Ticketportal, Ticketmaster, Ticketstream, Plzeňská vstupenka, Metaltix, Festicket nebo GoOut!
Don't want to see ads? Upgrade Now