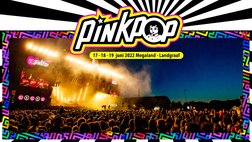 Date
Friday 17 June 2022 — Sunday 19 June 2022
Description
De 51e editie van Pinkpop vindt plaats op 17, 18 en 19 juni 2022.
Voor meer informatie rondom tickets en herstart van de ticketverkoop op zaterdag 2 oktober verwijzen we je door naar www.pinkpop.nl.
Reeds gekochte tickets voor Pinkpop blijven geldig voor Pinkpop 2022.
The 51st edition of Pinkpop will take place on the 17th, 18th and 19th of June 2022.
For more information about tickets and the start of the ticket sales on Saturday October 2nd, we refer you to www.pinkpop.nl.
Tickets already purchased for Pinkpop remain valid for Pinkpop 2022.
LINE-UP
METALLICA
PEARL JAM
NOTHING BUT THIEVES
TWENTY ONE PILOTS
Don't want to see ads? Upgrade Now