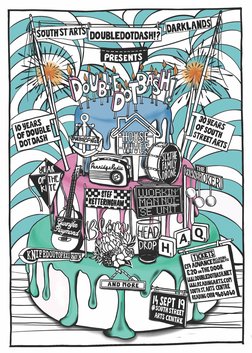 Date
Saturday 14 September 2019 — Saturday 14 September 2019
Description
South Street, doubledotdash!? & Darklands present DOUBLEDOTBASH!
The 14th September sees the tenth edition of DOUBLEDOTBASH return to South Street Arts Centre. A collaboration between doubledotdash!?, Darklands, and South Street – "The Bash" wades through the UK's musical undergrowth and picks a smattering of under-appreciated live acts to delight Reading's most open-minded music fans.
The line-up so far is...
ANCHORSONG
BARRY
BLÓM
EAT DADDY EAT
GWENIFER RAYMOND
HAQ123
HEAD DROP
HOUSEWIVES
KID KIN
KNIFEDOUTOFEXISTENCE
MIKE NEAVES
PORRIDGE RADIO
SLY & THE FAMILY DRONE
STEF KETTERINGHAM
THE PAWNBROKER
THIS
WORKIN' MAN NOISE UNIT
YEAR OF THE KITE
FOR MORE INFO ON ALL THE ACTS ==> https://www.doubledotbash.net
Tickets are £15 in advance for South Street members. £17 in advance for everyone else. £20 on the door.
Age: 14+
https://www.doubledotbash.net
Line-up (18)

Don't want to see ads? Upgrade Now