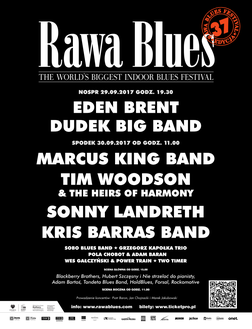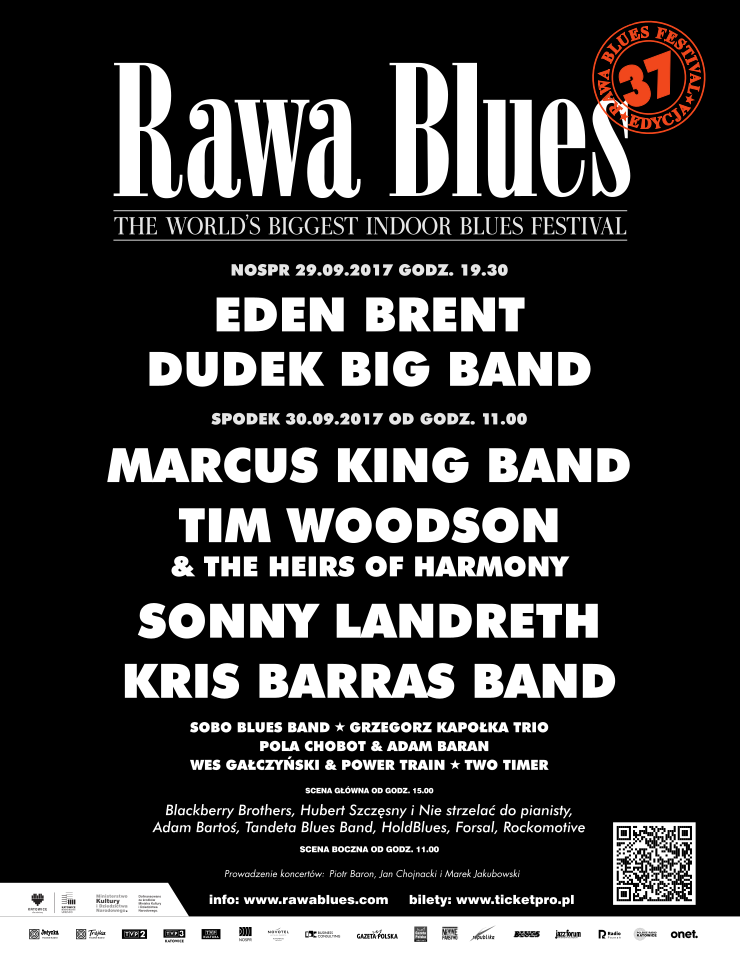 Date
Friday 29 September 2017 — Saturday 30 September 2017
Location
SPODEK
Katowice, Poland
Description
37. Rawa Blues Festival potrwa trzy dni (28.09-30.09). 28 września gratka dla wielbicieli gitarowych popisów – klinika prowadzona przez Sonny'ego Landretha, mistrza techniki slide. Dzień później, oprócz drugiego dnia warsztatów, koncert w sali NOSPR z udziałem Eden Brent oraz Irek Dudek Big Band. W sobotę blues rozbrzmiewał będzie w "Spodku", a wśród zagranicznych gwiazd: Kris Barras Band, Tim Woodson & Heir Harmony, Sonny Landreth i Marcus King Band.
Rawa Blues Festival to największy bluesowy festiwal na świecie organizowany w zamkniętym pomieszczeniu. Został uhonorowany nagrodą "Keeping The Blues Alive", przyznawaną przez międzynarodowe stowarzyszenie The Blues Foundation. W poprzednich latach na scenie "Spodka" wystąpiły takie tuzy gatunku zza Oceanu jak: Junior Wells, Robert Cray, Keb'Mo', Magic Slim, James Blood Ulmer, Blind Boys of Alabama, Otis Taylor, Eric Sardinas i Robert Randolph.
28.09 NOSPR (Warsztaty)
29.09 NOSPR
30.09 SPODEK
Zagrają:
NOSPR:
Eden Brent
Irek Dudek Big Band
SPODEK:
Scena główna: Sonny Landreth
Kris Barras Band
Marcus King
Tim Woodson & The Heirs of Harmony
Grzegorz Kapołka Trio,
Sobo Blues Band
Wes Gałczyński & Power Train
Pola Chobot & Adam Baran
Two Timer
Mała Scena:
Forsal
Rockomotive
Tandeta Blues Band
Hold Blues
Blackberry Brothers
Adam Bartoś
Hubert Szczęsny
Bilety do nabycia w sieci TickePro.
Ceny biletów (NOSPR):
- 190zł, 160zł, 130zł, 100zł
Ceny biletów (Spodek):
- 319zł, 159zł, 139zł, 129zł, 109zł, 90zł, 80zł, 70zł
Bilet + Pokój hotelowy (Śniadanie + parking):
- 508zł, 358zł, 308zł - Pokój 1-osobowy
- 852zł, 542zł, 452zł - Pokój 2-osobowy
Don't want to see ads? Upgrade Now