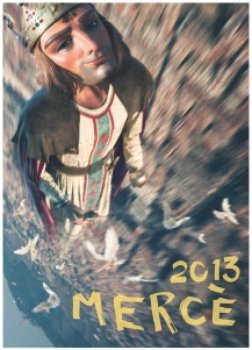 Date
Saturday 21 September 2013 — Monday 23 September 2013
Location
Parc del Fòrum
Plaça de Llevant, Barcelona, 08019, Spain
Description
La Mercè (Catalan pronunciation: ) is the annual festival (festa major in Catalan) of the city of Barcelona in Catalonia, Spain. It has been an official city holiday since 1871, when the local government first organized a program of special activities to observe the Roman Catholic feast day of Our Lady of Mercy, La Mare de Déu de la Mercè in Catalan. Although the actual feast day is September 24, the festivities begin a few days beforehand.
Some of the most important features of the festival were introduced in the year 1902, when parades included papier maché "giants" known as gegants i capgrossos, the first Castell competition in the city, and a popular dance from Empordà that was becoming popular throughout Catalonia: the Sardana. The holiday has enjoyed immense local popularity ever since.
Among more recently introduced traditions are the annual Catalan Wine Fair, a special correfoc, a 10 KM race and the pyro-musical, a display featuring synchronized fireworks, water fountains and music conducted at the base of the Montjuïc mountain.
Don't want to see ads? Upgrade Now