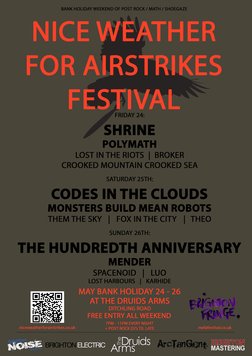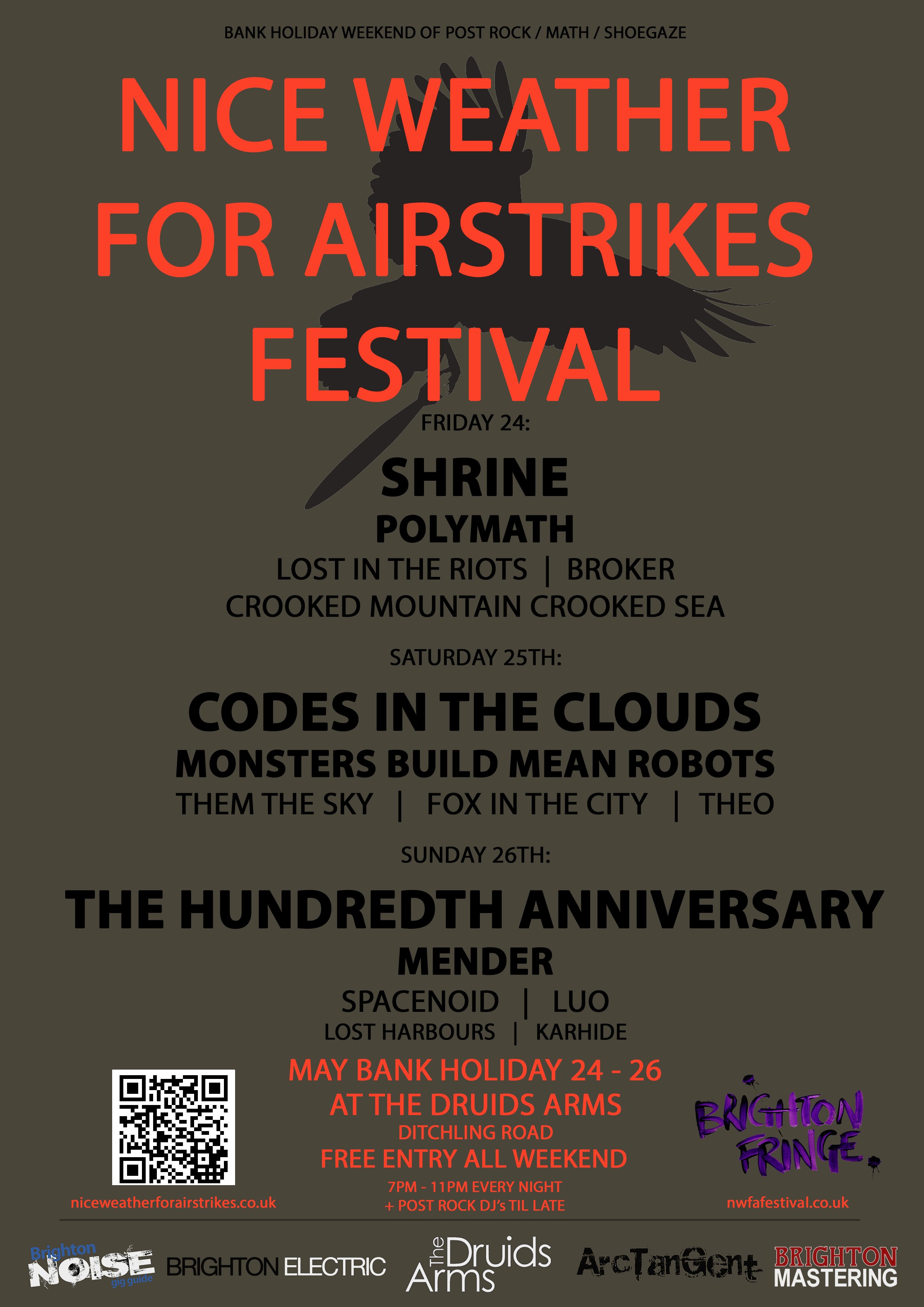 Date
Friday 24 May 2013 — Sunday 26 May 2013
Location
The Druids Arms
Brighton, United Kingdom
Description
/ / / NICE WEATHER FOR AIRSTRIKES 5TH YEAR PARTY / / /
FRIDAY 24TH MAY - SUNDAY 26TH MAY BANK HOLIDAY.
AT THE DRUIDS ARMS, DITCHLING ROAD.
>>>FREE ENTRY ALL WEEKEND<<<
POST ROCK / MATH ROCK / SHOEGAZE / SOUNDSCAPE / ELECTRONICA / POST HARDCORE
AS PART OF BRIGHTON FRINGE FESTIVAL 2013.
LIVE MUSIC 6PM - 11PM EVERY NIGHT
POST ROCK DJ's TIL LATE.
Set Times:
FRIDAY:
SHRINE 10.30 - 11
POLYMATH 9.45 - 10.15
LOST IN THE RIOTS 9 - 9.30
CROOKED MOUNTAIN, CROOKED SEA 8.15 - 8.45
BROKER 7.30 - 8.15
SATURDAY:
MONSTERS BUILD MEAN ROBOTS 10.20 - 11
CODES IN THE CLOUDS 9.15 - 10
THEM THE SKY 8.30 - 9
FOX IN THE CITY 7.40 - 8.10
THEO 7 - 7.30
SUNDAY:
HUNDREDTH ANNIVERSARY 10.20 - 11
MENDER 9.20 - 10
SPACENOID 8.30 - 9
LUO 7.40 - 8.10
LOST HARBOURS 6.50 - 7.20
KARHIDE 6 - 6.30
NOW I SEE BEES I WON 5.10 - 5.40
http://www.facebook.com/events/379697902143769/
Check out NWfA's Spotify Playlist and listen to the bands that are appearing at the Festival!
http://open.spotify.com/user/nwfa/playlist/4Sd6RKDsgwPYdKJae1Xsoc
SHRINE // CODES IN THE CLOUDS // THE HUNDREDTH ANNIVERSARY
MONSTERS BUILD MEAN ROBOTS // LOST IN THE RIOTS
LOST HARBOURS // CROOKED MOUNTAIN CROOKED SEA BROKER // THEM THE SKY // LUO // POLYMATH
SPACENOID // MENDER // FOX IN THE CITY // THEO // KARHIDE
PARTNERED BY:
BRIGHTON ELECTRIC http://www.brightonelectric.co.uk/
BRIGHTON NOISE http://www.brightonnoise.co.uk/
BRIGHTON MASTERING http://www.brightonmastering.co.uk/
ARCTANGENT FESTIVAL http://arctangent.co.uk/
http://nwfafestival.co.uk/
@NWfARecords / #NWfAFest
------------------------------------
FRIDAY 24TH MAY:
| SHRINE |
http://www.facebook.com/shrineuk
www.shrineband.bandcamp.com
PROGRESSIVE MATH ROCK
Shrine are a progressive heavy rock band from Brighton, UK.
Formed in July 2012, Shrine are a four piece collective who combine the technical wizardry of bands like Mastodon, The Mars Volta and Dillinger escape plan with progressive soundscapes of bands like Oceansize and Devin Townsend to create a sound which is fresh, honest and unique.
| POLYMATH |
PROGRESSIVE VOLTA ESQUE MATH SUPERGROUP
http://www.facebook.com/polymathbrighton
https://soundcloud.com/polymathbrighton
Brighton's newest and most exciting Mathematical Progressive Rock band featuring members of Last Days of Lorca, 900 Spaces, Doll & The Kicks and Monsters Build Mean Robots....
| LOST IN THE RIOTS |
INSTRUMENTAL POST ROCK
http://www.facebook.com/lostintheriotsmusic
http://lostintheriots.bandcamp.com/
Lost in the Riots are a four-piece post rock outfit fighting their way out of Watford, UK since 2010. Taking a different approach to the town's hardcore roots, the quartet serve up an energetic, guitar-driven mammoth of quiet-loud dynamics.
"When you find a 'Stranger In The Alps', you treasure it, because albums like this don't come along every day of the week. 9/10"
Shout4Music
"With Stranger in the Alps, Lost in the Riots have delivered a really confident, well-crafted debut"
Echoes & Dust
| CROOKED MOUNTAIN CROOKED SEA |
POST HARDCORE / POST ROCK
http://www.facebook.com/crookedmountaincrookedsea
http://crookedmountaincrookedsea.bandcamp.com/
Brighton favourites return for their 2 year split up anniversary reunion....
| BROKER |
http://www.facebook.com/BrokerUK
http://broker.bandcamp.com/
POST HARDCORE / PUNK
------------------------------------
SATURDAY 25TH MAY:
| CODES IN THE CLOUDS |
http://www.facebook.com/codesintheclouds
http://codesintheclouds.bandcamp.com/
SHOEGAZE / INSTRUMENTAL POST ROCK ON ERASED TAPES
Codes In The Clouds, the quintet of Ciaran Morahan, Stephen Peeling, Jack Major, Joe Power and Oliver Glosby hail from Dartford, England – a town not known for much besides giving birth to The Rolling Stones. Since 2007 they have dedicated themselves to producing heartfelt music to rival their peers and firmly place CITC as 'Ones To Watch' in a vastly growing instrumental rock scene. A perfect fit then for cinematic music label Erased Tapes, with writers such as Wyndham Wallace musing that the likes of Icelandic composer Ólafur Arnalds and Berlin pianist Nils Frahm 'sit comfortably alongside the rowdy post-rock of Codes In The Clouds'. Their much anticipated second studio album As The Spirit Wanes will see the light of day in January 2011.
Codes In The Clouds weave guitar melodies that have an alluring and versatile combination of qualities: melancholic yet uplifting, polished yet unhinged, delicate yet powerful. Through relentless touring and determination this young band have steadily gained recognition since signing to Erased Tapes in 2007.
| MONSTERS BUILD MEAN ROBOTS |
http://www.facebook.com/MonstersBuildMeanRobots
http://mbmr.bandcamp.com/
POST ROCK / AMBIENT SINGALONG POP
Brighton's MBMR return for their 5th year at NWfA...I wonder why. Pretty Post Rock with group chants, crowd singalongs and possibly even some strings....
"Echoes of Sigur Ros and Explosions in the Sky" – Artrocker 4/5
"Fantastically textured and beautifully envisioned" – Silentballet.com
"A thing of utter, unashamed beauty" CLASSIC ROCK MAGAZINE
"From glorious pop/post-rock crossover to an all out mesmerising, almost spell binding, emotional betrayal of what has come before..."
BEARDED MAGAZINE
| THEM THE SKY |
http://www.facebook.com/ThemTheSky
http://youtube.com/themthesky
http://www.soundcloud.com/themthesky
POST ROCK / EXPERIMENTAL
Them The Sky are a collective of close friends who all share a passion for music. They have developed their sound drawing upon influences as far-field as musique concrete to contemporary, shoegaze and ambient, which they utilise to create something unique among Brighton's eclectic music scene. Many of the band members have a strong musical background, from classical guitar to advanced music technology studies, allowing their sound to take influence from a range of genres. They use an array of instruments and techniques to create a style of music that combines catchy ambience, classical inspired melodies and driving drum beats.
| FOX IN THE CITY |
http://www.facebook.com/FoxintheCityuk
http://foxinthecity.bandcamp.com/
https://soundcloud.com/foxinthecityuk
POST ROCK / AMBIENT PROGRESSIVE INSTRUMENTAL ROCK
"They create sonic sound-scapes that are dynamic, uplifting, thought-provoking and with an innate ear for melody."
- Brighton Noise
"Fox in the city brings instrumental music to an entirely different meaning. This five piece band create an ambience so powerful that drugs become worthless. The beautiful thing about these guys is that, where every song creates a story, they leave it up to your imagination to decipher what it is. Truly incredible artists."
- Hush Hush, Brighton
| THEO |
https://www.facebook.com/loopsofdeath
http://loopsofdeath.bandcamp.com/
ONE MAN POST MATH LOOP
Theo's 3rd spell at NWfA, and rightly so. His one man band of math guitar loops and post hardcore drums (with the occasional toy keyboard thrown in for good fun) had everyone in silence both 2011 and 2012. And now he's back....
"There's a lot of people out there who've learnt that, in lieu of fellow musicians, a few hundred quid will buy them a handy box which will record what they play and loop it, and then they can play another loop on top of that, and so on. Most start by gentling tapping on their wooden acoustic guitar, before adding perhaps a plucked bass line and a few twiddly motifs to accompany it, before singing about trees or something. They are, almost without exception, completely boring and shit. Theo's found a way round this however – turns out that you can actually start out with an INCREDIBLE RIFF, and then add ANOTHER INCREDIBLE RIFF, and then pile on about another ten loops to create a ridiculously dense weave of mind-melting interlocked guitars. But he doesn't stop there – oh no. Motherfucker jumps on a drumkit and starts pounding the shit out of it over the top, in a place that makes you question what the hell you thought you'd heard before. And then he stops to add another riff. And then gets back to drumming again. Most times we've seen him play he's done this, non-stop, for longer than really ought to be humanly possible. We love him."
Drunken Werewolf Magazine review.
------------------------------------
SUNDAY 26TH MAY:
| THE HUNDREDTH ANNIVERSARY |
http://www.facebook.com/pages/The-Hundredth-Anniversary/206985939397584
http://www.thehundredthanniversary.com/
SHOEGAZE SOUNDSCAPE
One of Brighton's best up and coming bands, this 4 piece create slow build shoegaze soundpop to glorious effect...the perfect hangover cure and end to NWfA2013
| MENDER |
http://www.facebook.com/Mender.band
http://www.mender.bandcamp.com/
LIVE ELECTRONICA 3 PIECE
Ash West-Mullen (ALRIGHT THE CAPTAIN) has been writing and recording under the name of Mender for 4 years now. Recently 2 more members have been added and the project has evolved into a live band mixing vocals, guitar, bass and electronics...subtle, chiller pop tunes with electronic elements.
"...both hoods-up cool and melancholy at the same time" - ninehertz
| SPACENOID |
http://www.facebook.com/pages/SPACENOID/111519150851
LAYERED LOOPING / AMBIENT SOUNDSCAPE 3 PIECE
Take the studio trickery and electronic experimentations of artists such as Four Tet and Flying Lotus and merge it with the dynamics of a live band and you have SPACENOID. The three-piece project from Brighton use the sample-based approach of modern DJ/ electro culture and then morph it into an exciting, visceral live experience.
| LUO |
http://www.facebook.com/herebeluo
www.soundcloud.com/luomusic
www.luomusic.bandcamp.com
ELECTRONICA / POST ROCK / SOUNDSCAPE
'Luo are a talented three-piece who showcase the sort of bedroom-electro that too often gets slated. Solo producer Josh directs their exciting manipulation of electronica, using loops and controls to ambush the clashy guitar chords chopping away in the background. It takes a while to understand what they're doing, but when we do we realise it's brilliant – and inventive.'
-Source
| LOST HARBOURS |
http://www.facebook.com/LostHarbours
http://soundcloud.com/lostharbours
http://lostharbours.blogspot.com/
http://lostharbours.bandcamp.com/
DARK AMBIENT FOLK SOUNDSCAPES
Lost Harbours hail from Southend-on-Sea and have been performing since 2007 around the UK; they play with an eclectic collection of influences, but mainly draw upon the dark, mysterious and occasional beautiful elements of nature and the human condition. Their music has been described as psych-folk, strange and forbidding, sorrowful and "present day avant-garde blend of post-modern orchestration and Gregorian chant."
| KARHIDE |
http://www.facebook.com/karhide
http://www.karhide.co.uk
http://karhide.bandcamp.com/
NOISY ELECTRONICA INFUSED POST ROCK
Field Records' own one man looping band Karhide return for their 2nd spell at NWfA...load, in your face guitars power of backdrops of glitchy industrial electronica and layers of balls out instrumental rock will burst those hungover little eardrums you've been nursing all weekend. WAKE UP! We're not done yet!
Don't want to see ads? Upgrade Now