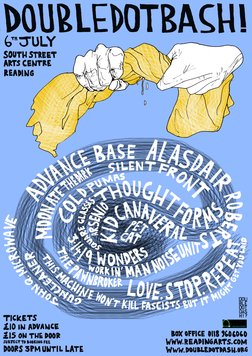 Date
Saturday 6 July 2013 — Saturday 6 July 2013
Description
4th year of fun (officially. 5th year unofficially). curated by south street arts centre and doubledotdash!?
a day of eclectic music curated by the doubledotdash!? collective and south street arts centre.
combining some of the most exciting acts in the UK underground music scene, with some of berkshire's finest acts.
there will be 2 intimate indoor stages running simultaneously all day.
there will also be good times. new friends. booze. and hopefully some sunshine.
food will be provided on site by tutu's ethiopian table.
LINE-UP:
ADVANCE BASE // ALASDAIR ROBERTS // ARSENIO // COLD PUMAS // GUNCLEANER // JOHN Q MICROWAVE // KID CANAVERAL // LOVE.STOP.REPEAT // MOON ATE THE DARK // PET CAT // SILENT FRONT // SQUARE GLASSES // THE PAWNBROKER // THE 3.1419 WONDERS // THIS MACHINE WON'T KILL FASCISTS BUT IT MIGHT GET YOU LAID // THOUGHT FORMS // WORKIN' MAN NOISE UNIT
more info on all the artists on the webpage -> http://www.doubledotbash.net/
advance tickets £10. on the day £15.
http://www.readingarts.com/southstreet/whatson/event.asp?id=SX1475-A78218B7
http://www.wegottickets.com/event/226027
Don't want to see ads? Upgrade Now