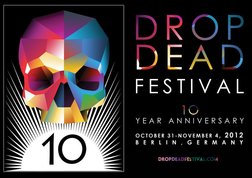 Date
Wednesday 31 October 2012 — Sunday 4 November 2012
Location
TBA
Berlin, Germany
Description
Tickets : http://www.dropdeadfestival.com/tickets/
Drop Dead Festival, premier festival for dark/weird underground music celebrates its 10th year in Berlin , Germany October 31- Nov 4. In adition to legendary bands like Kas Product, UK Decay, Dandi Wind and In Trance 95 this is also a chance to see numerous appearances from amazing bands from all over the would you can only see together at the Drop Dead Festival. You will see 50 or so bands, festival also includes dance parties, art and video installations, independent designer and music vending market and much more .
Drop Dead Festival is the showcase for the best original old and new post-punk, weird electro, mutant wave, deathrock, billy and related bands and DJs. We believe in bringing together the most creative and interesting bands regardless of how obscure. Because many of the best independent, weirder and art related bands get no exposure and are not well known, we take this opportunity to bring them together during this one big festival.
A SHOWCASE FOR DROP DEAD FESTIVAL /// RIP GUCCI GOTH
When the last rites of Black Magick have faded, BlackBlackGold returns to Drop Dead Festival to shut down five days of mutant mayhem proper!
LIVE: PICTUREPLANE
Special performance by: BUTTERCLOCK
Future bass, ghetto goth, hip-hop, industrial, grime, real trap shit played all night: SHAUN BASS (Destroy Culture) + BLACKBLACKGOLD
Location: CUBE Club
Rollbergstraße 26, 12053 Neukölln, Berlin
Don't want to see ads? Upgrade Now
49 interested
Deleted user