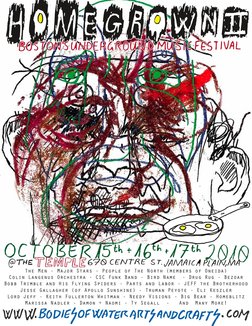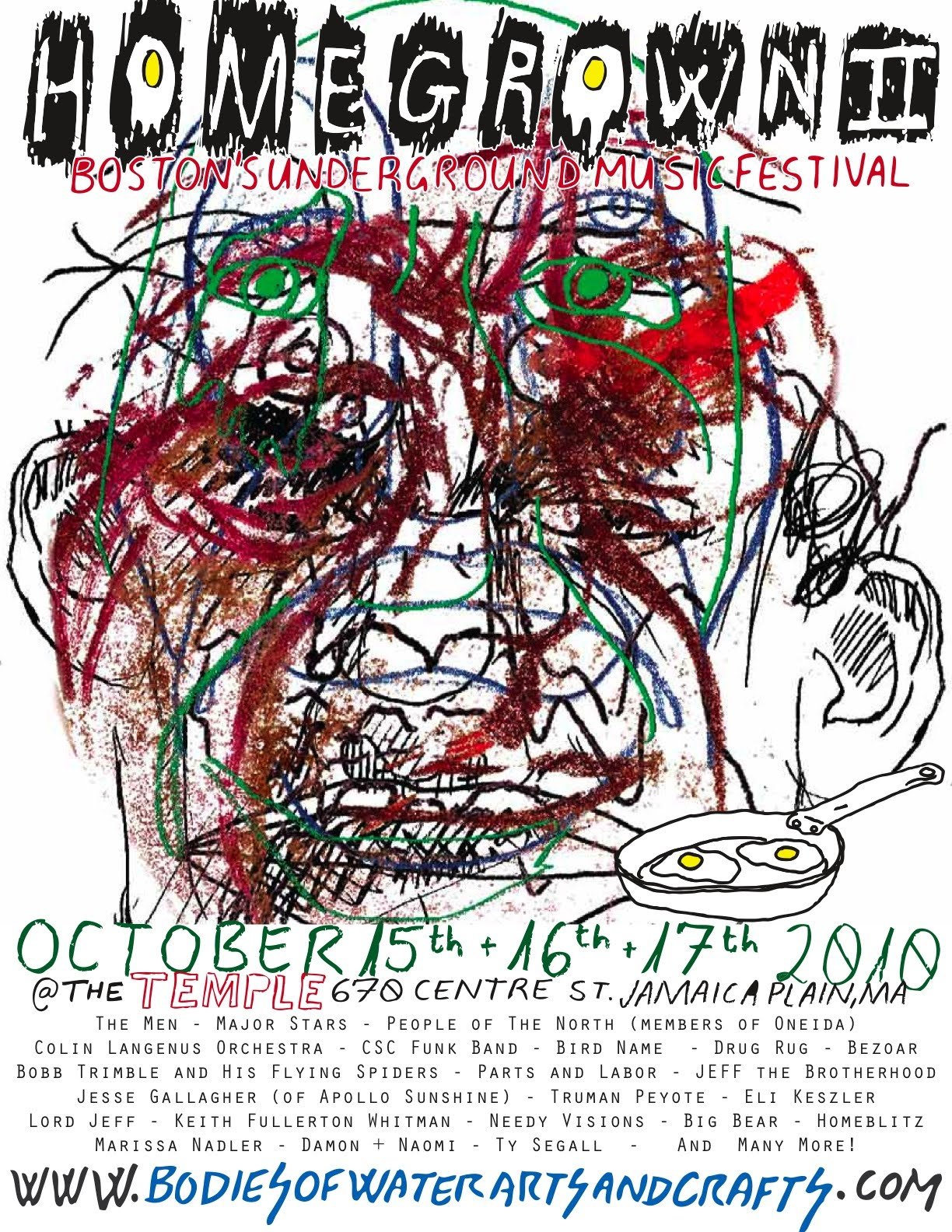 Date
Friday 15 October 2010 — Sunday 17 October 2010
Location
The Temple
670 Centre St, Jamaica Plain, MA, 02130, United States
Description
OCT 15th-17th | ALL AGES | $15 per day
limited number of $35 3-day passes avail soon
bill SUBJECT TO CHANGE
2 stages
FINAL LINEUP
FRIDAY OCTOBER 15th
(1230am)-Major Stars
-Drag City Psych guitar slaughter from the folks behind Twisted Village.
(1145pm)Damon and Naomi
-Legendary dream pop from these ex-Galaxie 500 folks.
(11pm)-Larkin Grimm(nyc)
-Young God's beautiful and terrifying beyond psych-folk shaman.
(1015pm)Marissa Nadler
-Magic, trance inducing folk chanteuse. Her voice will haunt you.
(930pm)-Bobb Trimble's Flying Spiders
-Worcester's 80s weird rock master has returned and is weirder than ever.
(845pm)-Fat Worm of Error(w. mass)
-Load Records farthest out beyond Beefheart beefcakes that ever happened.
(815pm)Eli Keszler(providence)
-Providence/Boston percussion magician.
(730pm)-Life Partners
-Bad taste masters of the ROCK.
(7pm)Black Pyramid(w. mass)
-Psychedelic doom metal western mass style.
(635pm)Mind Yeti
-Far too many dudes making many noise too far gone.
(610pm)Beach Hair
-Pollard-isms shone through a JP prism.
SATURDAY OCTOBER 16th
(1245am)Tunnel of Love
-The baddest garage rock fucks in the land. Lose your body(keep your mind).
(12am)-Parts and Labor(nyc)
-Jagjaguar kraut popsters for losing your shit to.
(1115pm)Jeff the Brotherhood(nashville)
-3 strings. 2 brothers. 1 love. Futurist classic rock.
(1045pm)-Truman Peyote
-Totally loaded psychtronica/hip hop dawg.
(1015pm)Drug Rug
-Girl/guy psych-pop local heros here to warm you up.
(945pm)-CSC Funk Band(nyc)
-New York's illest underground funk crew.
(915pm)- Bird Names(chicago)
-Weird pop extraordinaires for dancing and wondering.
(845pm)-Colin Langenus Orchestra(ex-usaisamonster, nyc)
-Drone country + hair last I heard.
(815pm)-Homeblitz(nyc)
-Garage pop all over your face.
(745pm)-Keith Fullerton Whitman
-The pulsating drone master himself.
(715pm)People of the North(Oneida side project, nyc)
-Two Lane Blacktop/Autobahn on the radio.
(650pm)Ski Mask
-Two microphone fiends and a self aware drum machine. No strings attached.
DINNER(6-645)
(530pm)-Reports
-Jangle pop played by the bad side of good dudes.
(5pm)Doomstar
-Space babies with reverb rabies.
(430pm)-Jesse Gallagher(of Apollo Sunshine)
-Dude from Apollo Sunshine doing something surely interesting
(4pm)Dick Heaven(nyc)
-What if your best friend was a serial killer? And he sang shifty songs.
(330pm)Invisible Circle(nyc)
-Noise drone bearded smiler.
(300pm)Fat History Month
-Feel good awkward rock from the odd couple.
(235pm)Fedavees
-Underwater sing-alongs from a basement in Cambridge
(210pm)Sunrising
- Noisy surf-tinged business
(145pm)Shitaly
-Dark wave vs. prog rock. Who will win this battle of the ages?
SUNDAY OCTOBER 17th
(1115pm)BBQ(Mark Sultan, of King Khan and BBQ, montreal)
-Sub Pop's doo wop garage hero man flying solo on the guitar and drums.
(1045pm)-So Cow(galway, irelend)
-Indie pop as fuck international fuzz men.
(10pm)Ty Segall(san fran)
-Goner's garage pop spaceman. Dirty fuzz, Beatley harmonies, and the songs to back it
(930pm)-Needy Visions
-Low life power popsters giving you something to feel in the area below your waist.
(845pm)Debo Band
- Ethiopiques happening here now live.
(815pm)-Many Mansions
-The Fela Kuti of blips and bloops
(745pm)Alec K Redfearn and the Eyesores(providence)
-Eastern European spiced downer pop.
(715pm)Bezoar(nyc)
-Gnarly female fronted psychedelic sludge.
(650pm) Vile Bodies
-Hardcore post-punk face punch.
DINNER(6-645)
(530pm)Mmoss
- Psychedelia in all its permutations. No Altamont.
(5pm)Hands and Knees
-The bounciest Pixies-garage pop around. You'll be dancing.
(430pm)Turbo Fruits(nashville)
-Fat Possum's wild youth crew will make you feel like a kid again. A kid who digs fuzz.
(4pm)Pujol(nashville)
-Infinity Cat dudes with the catchy songs that don't feel wrong and the blown out tones like the Ramones
(330pm)Human Eye(detroit)
(3pm)K Holes
-Depressing garage lizard pop
(230pm)Turtle Ambulance
(205pm)the CQ
-7 layer fuzz pop
(135pm)Duck That
-The only sax and duck call band currently working.
(110pm)Double Awake
-One man noisenik bastard.
(1245pm)Death Shepherd
- Fuzzy, buzzy sonic onslaught
Don't want to see ads? Upgrade Now
28 went
Deleted user