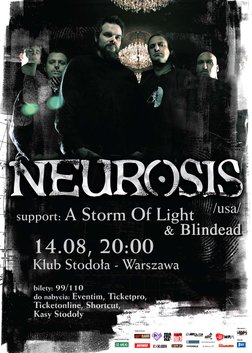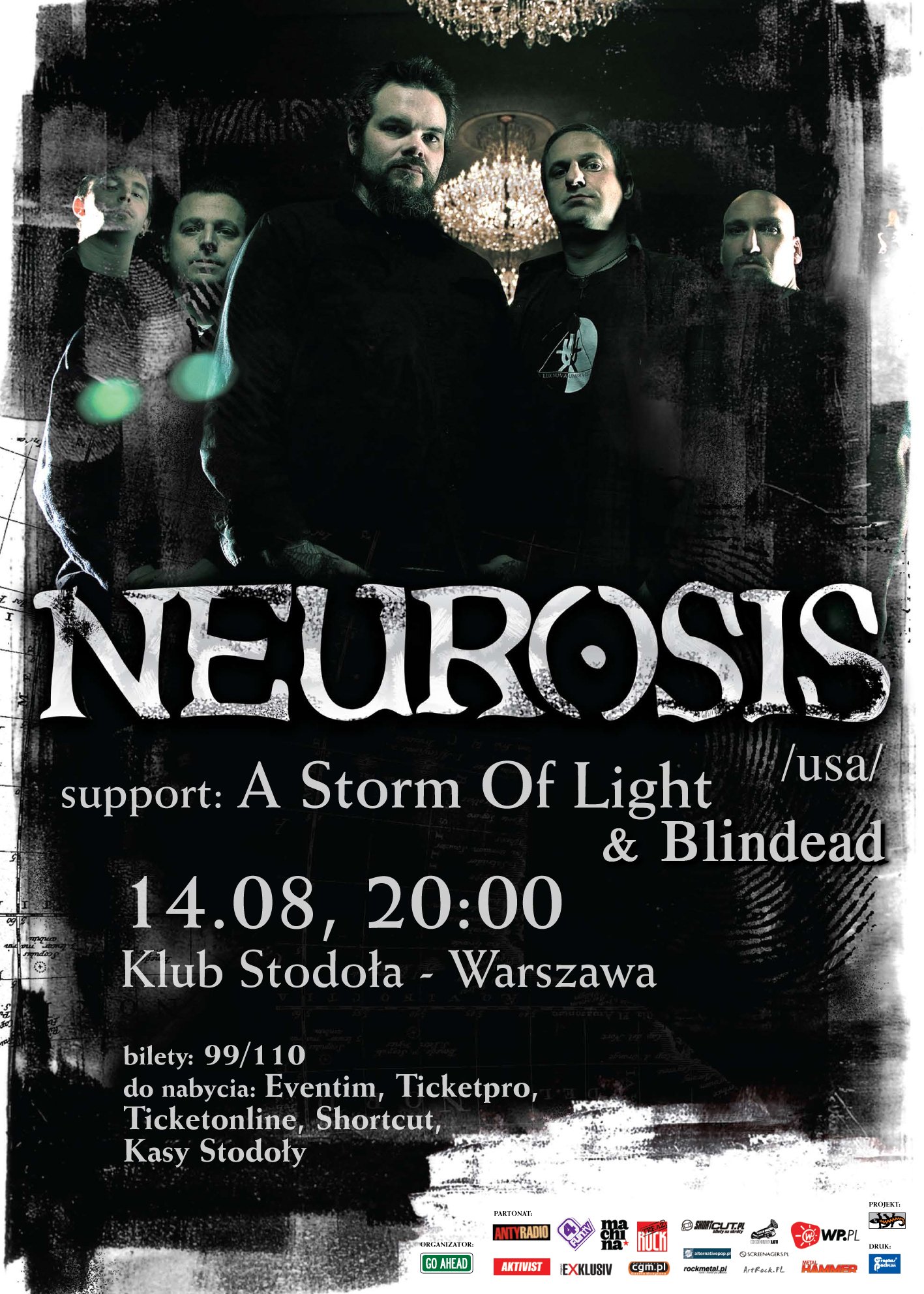 Date
Thursday 14 August 2008 at 8:00pm
Location
Stodoła
ul. Stefana Batorego 10, Warszawa, 02-591, Poland
Tel: (22) 825-60 31
Description
14.08, godz. 20, Klub Stodoła
Bilety: 99/110, do nabycia: Eventim, Ticketpro, Ticketonline, Shortcut
Neurosis - amerykańska grupa grająca muzykę z pogranicza gatunków sludge metal, industrial i hardcore, jej styl podlega jednak ciągłej ewolucji i jest trudny do zaklasyfikowania. Powstali w 1985 roku w Oakland w Kalifornii. Wydali dziesięć albumów długogrających. Ich styl ewoluował od hardcore punka (płyta Pain of Mind) poprzez doom metal aż do ambientowych produkcji Tribes of Neurot (side project muzyków). Wykonywana przez grupę muzyka zainspirowała wiele innych zespołów do muzycznych poszukiwań w zaproponowanym przez nią kierunku. Warto tu wymienić m.in. Isis oraz Cult of Luna, które tworzą muzykę osadzoną w bardzo podobnym klimacie, proponując jednak własne, oryginalne rozwiązania. Muzycy zespołu Neurosis tworzą też inny zespół, eksperymentalny Tribes Of Neurot - jest to tak jakby bardziej elektroniczno-ambientowe oblicze Neurosis.
www.neurosis.com
www.myspace.com/officialneurosis
A Storm of Light - nowy zespół Josha Grahama, znanego ze współpracy z Red Sparowes, a także odpowiedzialnego za wizualizacje w trakcie koncertów Neurosis. Za perkusją Vinny Signorelli z Unsane. Monolityczne, epickie brzmienie tego zespołu to prawdziwa gratka dla fanów eksperymentalnego i progresywnego metalu. Ich debiutancki album "And We Wept the Black Ocean Within" właśnie ukazał się nakładem Neurot Recordings.
www.astormoflight.com
www.myspace.com/astormoflight
Blindead powstało w 1999 roku z inicjatywy Michała Zimorskiego i Mateusza Śmierzchalskiego (ex-BEHEMOTH). Grupa porusza się w stylistyce post-metalowej spod znaku NEUROSIS i ISIS. Jej rozbudowane kompozycje w oryginalny sposób łączą w sobie monumentalność z delikatnością sprawiając, że zespół wyraźnie odróżnia się od innych polskich ekstremalnych formacji. W zeszłym roku Blindead wzieli udział we wspólnej trasie z ANTIGAMA (Relapse Records) i NYIA (Feto Records), a w tym grali z THE OCEAN (Metal Blade), THEMA ELEVEN (Insane Society) oraz supportowali m.in. CULT OF LUNA (Earache Records) na obu koncertach w Polsce.
www.blindead.net
www.myspace.com/blindead
Don't want to see ads? Upgrade Now
277 went
Deleted user