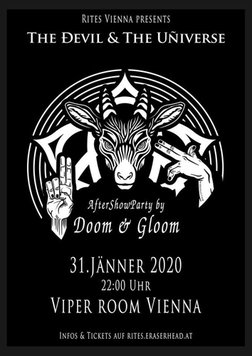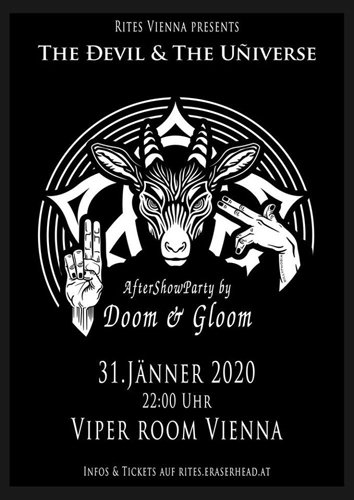 Date
Friday 31 January 2020 at 10:00pm
Description
Nach längerer Pause gibt es nun doch mal wieder ein Konzert von Rites Vienna!
Die local Goats von THE DEVIL & THE UNIVERSE sind nach zahlreichen Auslandsgastpielen wieder zu Gast im Viper Room Vienna und bringen ihre energetische, okkulte Performance mit einem Augenzwinkern wieder auf eine heimische Bühne!
Mit dabei haben sie dann natürlich auch Titel ihres neuesten Releases "ENDGAME 69", welches die Geschehnisse des Jahres 1969 thematisiert.
Limitiertes Special Early Bird Ticket: 10 €
(per Bestellung an rites2017@eraserhead.at und Überweisung des Betrages)
Ticket: VVK 12 €, AK 14 €
Reguläre Tickets erhältlich ab Mitte Oktober
Doom & Gloom – dark, romantic and atmospheric sounds
DJ LINE:
DJ/VJ Eraserhead (Rites Vienna, Schwarzer Reigen)
t.b.a.
SOUNDS:
Dark / Apocalyptic / Nordic / Neo Folk
Ritual – Martial – Millitary Pop
Dark Romantic – Neo Classical – Etheral – Medieval
Post Punk – Dark Wave – Dark 80s
Dungeon Synth – Dark Pop – Trip Hop – Soundtracks
Atmospheric Black Metal – Occult Rock – Doom
Eintritt Party only: AK 5,00 €
Einlass ab 22:00 Uhr, DJ-Line ab ca. 00:00 Uhr!
Don't want to see ads? Subscribe now