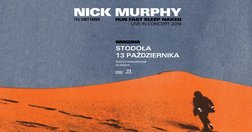 Date
Sunday 13 October 2019 at 6:30pm
Location
Stodoła
ul. Batorego 10, Warszawa, 02-591, Poland
Tel: (+48) 22 825 60 31
Description
Aby przygotować swój drugi album, Nick Murphy spędził 4 lata podróżując po świecie wraz z mikrofonem w walizce, nagrywając partie wokalne w miejscach, które najbardziej go zainspirowały. W tym czasie, pochodzący z Melbourne wokalista, producent i multiinstrumentalista, znany wcześniej jako Chet Faker, zanurzył się w głębokiej autoanalizie. "Run Fast Sleep Naked" to płyta, w której Nick nieustannie szuka i zadaje pytania.
Najnowszy album to następca dobrze przyjętych wydawnictw: "Missing Link" (EP wydana w 2017 roku, już jako Nick Murphy) i "Built on Glass" – pierwszej długogrającej płyty wydanej w 2014 jako Chet Faker. Mimo że wokale na "Run Fast Sleep Naked" były nagrywane w różnych miejscach na świecie, w tym w salonie babci Nicka, w studiu w Tokio, na wakacjach spędzonych z rodziną w Nowej Zelandii czy w swoim mieszkaniu w Nowym Jorku – muzyka była w większości nagrana w Figure 8 w Brooklynie. Aby nadać ostateczny kształt, Murphy zaangażował 20 muzyków sesyjnych i orkiestrę, osadzając każdą piosenkę w nieoczekiwanych teksturach i szalenie zróżnicowanych tonach.
Nick Murphy nawiązał współpracę z fundacją PLUS 1, w związku z czym, 5 zł z każdego sprzedanego biletu przeznaczone jest dla organizacji zapewniających godność i równość społecznościom, które tego potrzebują.
Don't want to see ads? Subscribe now