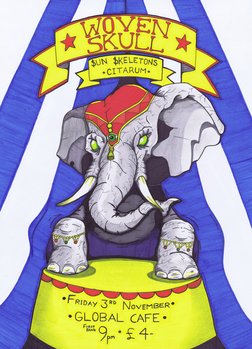 Date
Friday 3 November 2017 at 9:00pm
Description
doubledotdash!? present...
an econo band night. number 54.
with
WOVEN SKULL (ireland)
we say:
"their music is an exercise in restraint; the minimal repetitions of the mandola, guitar and percussion gradually building to induce a truly sublime dwam. head music of the highest order."
someone else says:
"Distorted guitar, stripped-down drum kit, mandola and electric viola lock into a discordant mantra with an eastern edge, building and building and building and building some more, until you're swept up in something truly transcendental, like Spacemen 3 at their most outré jamming with The Mahavishnu Orchestra, or maybe Pentangle if they were kidnapped by the Devil and held captive in a dungeon for months and made to listen to Faust, The Velvet Underground and Shit & Shine at extreme volume until their brains went weird."
http://wovenskull.tumblr.com/
plus local ladz...
$UN $KELETONS
tossing out a few gold soundz in some formation featuring shahi baaja and sexy sax.
https://sunskeletons.bandcamp.com/
CITARUM
Atmospheric songcraft from a former member of SNOWMAN. New in town.
https://soundcloud.com/citarum
£4 at Global Cafe
get your eatz in beforehand at Tutu's Ethiopian Table.
http://www.tutus-ethiopian-table.com/
Don't want to see ads? Upgrade Now