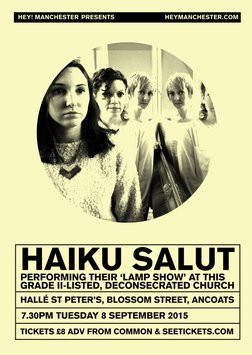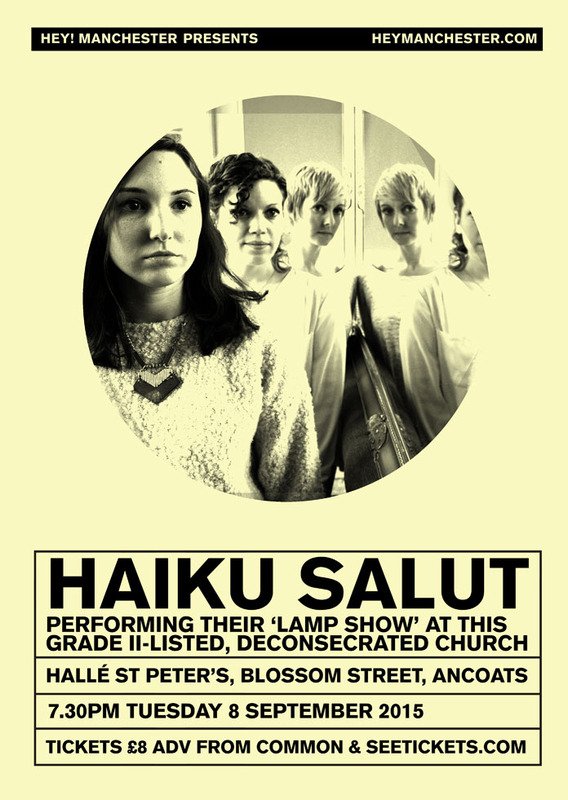 Date
Tuesday 8 September 2015 at 7:30pm
Location
Hallé St Peter's
Manchester, United Kingdom
Description
We're delighted to present Haiku Salut, performing their 'lamp show' in one of Manchester's hidden gems.
Haiku Salut are an instrumental trio from the Derbyshire Dales who describe themselves as a 'Baroque-Pop-Folktronic-Neo-Classical-Something-Or-Other'.
Influenced by the evocative film soundtracks of Yann Tiersen and Benoît Charest, the genre-melting electronica of Ametsub and early Múm, and the impressionistic writing of Haruki Murakami, the band's debut album Tricolore came out last year, to critical acclaim. The album was awarded four stars by the Guardian, Uncut, Drowned In Sound, Artrocker, MOJO and many more – and songs from the record were played on BBC 6 Music by Jarvis Cocker, Tom Ravenscroft and Gideon Coe.
After the release of Tricolore, the trio of Gemma, Louise and Sophie toured the UK and France, and won the Green Man Rising competition, going on to give a magical, coming-of-age performance on the Mountain Stage at the Green Man Festival. Writing about the band after the final of the Green Man Rising contest, MOJO and Clash were full of praise for the band.
Etch and Etch Deep is their new album, released on 31 July. The new album sees the Derbyshire trio melt their folk, classical and electronic influences to create a sound that's both inventive and inquisitive, at times more boldly pop, at others startlingly impressionistic.
This is a rare 'lamp show' performance which features an orchestra of charity shop lamps which are programmed to flash, flicker and dance in time to the music.
Hallé St Peter's located on Blossom Street in Ancoats, is a Grade II-listed, deconsecrated church, which was built in 1859. Having stood empty for decades, it was recently restored to provide rehearsal and recording space for the Hallé orchestra.
Price: £8 adv
More info
Don't want to see ads? Upgrade Now