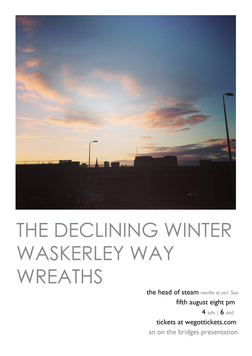 Date
Wednesday 5 August 2015 at 8:00pm
Description
THE DECLINING WINTER
The Declining Winter are a British band based in Yorkshire, UK, led by Richard Adams, the co-founder of the Domino Records group Hood.
Expect warmly produced, forward-thinking, melancholic English music referencing Talk Talk, Bark Psychosis, Robert Wyatt, Radiohead and of course Adams' former buddies Hood.
WASKERLEY WAY (https://soundcloud.com/waskerleyway)
Informed by the technical approaches of musique concrète and hip hop production, Waskerley Way composes 'off the lattice', eschewing fixed pitch and metrically-ordered rhythm in favour of having absolute faith in the ears – morphologies of sounds working in tandem with morphologies of feeling.
Waskerley Way's new album Junk Playground (out on Box Records) explores the dynamics of public spaces in urban areas, and the defiance of public life in the face of a world becoming increasingly private and homogenous. The resourcefulness of communities in European cities such as Madrid and Lisbon is what inspires Waskerley Way to be resourceful with sound objects, rearranging sonic detritus into new, uncanny forms.
WREATHS
(https://wreathstaperecordings.bandcamp.com/)
Wreaths is tape-hiss-shrouded, weathered noise/drone coaxed from bowed mandolin, billowing guitar fug and looped field recordings.
"Like a collision between Stars Of The Lid, The Gentleman Losers and perhaps even Thuja...Splendidly morose." Boomkat.
Don't want to see ads? Upgrade Now