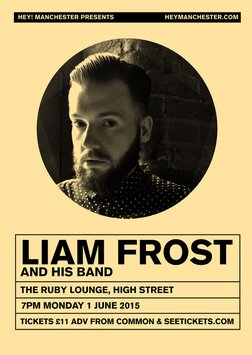 Date
Friday 30 October 2015 at 7:00pm
Description
Described by Elbow's Guy Garvey as 'the UK's answer to Bright Eyes' and heralded in some quarters of the British music press as a Mancunian Bruce Springsteen, singer-songwriter Liam Frost has developed, across two critically acclaimed solo albums, into a well-cherished artist whose distinctive voice, songwriting and sincerity really set him apart.
Following his recent Tokolosh collaboration with members of The Earlies and The Whip, Liam returns for these special performances showcasing songs from his recent The Wild Places EP and his as yet untitled third album. For this show, he'll be joined by his full live band.
Support comes from Robbie Cavanagh. The Manchester singer-songwriter's debut record The State of Maine is out now.
Price: £11 adv
More info
Don't want to see ads? Upgrade Now
2 went
Deleted user