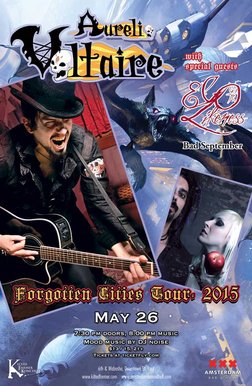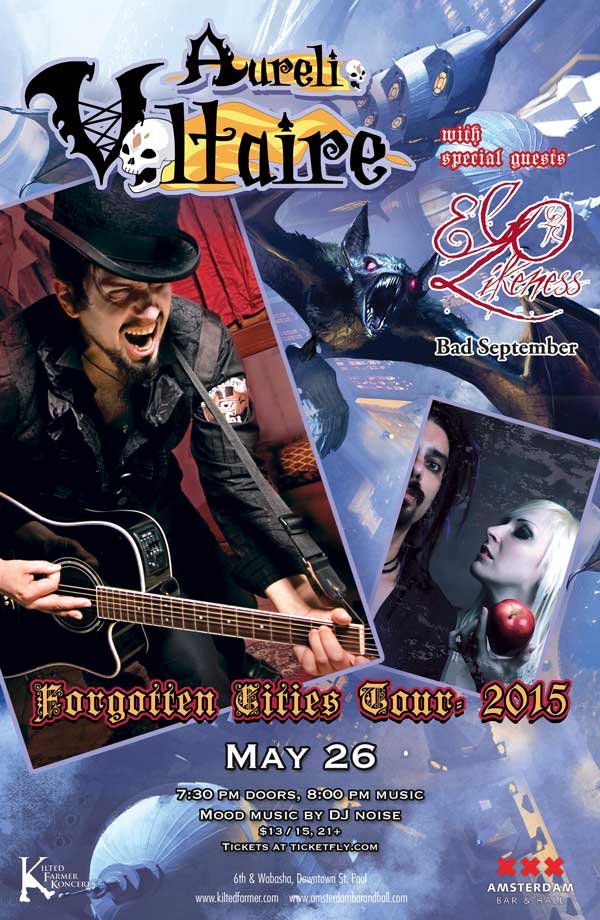 Date
Tuesday 26 May 2015 at 7:30pm
Description
7:30 pm doors / 8:00 pm show
$13 in advance at Ticket Fly or at Amsterdam's ticket outlets (available soon!)
$15 at the door
21+
Mood music by DJ noise throughout the evening
AURELIO VOLTAIRE
As a musician, he is a songwriter whose music can best be described as a collection of murder ballads, tongue-in-cheek exercises in the macabre, with just enough bawdy songs about Star Trek and Star Wars to keep a convention audience rolling in the aisles. Many know him for his songs "Brains!" and "Land of the Dead" from the Cartoon Network show "The Grim Adventures of Billy And Mandy".
Voltaire's live shows, whether solo or with his skeletal orchestra, are full of stories and games. Many describe his shows as sitting around a fire while an old friend regales you with tales, presuming that old friend drinks a liter of rum a night, dates zombie prostitutes and wrestles Krakens.
Voltaire has been recording and touring for over 15 years. He's released 8 full length CDs, most of them through Projekt Records.
- See more at: http://voltaire.net/biography/#sthash.zBXW5J6c.dpuf
http://www.voltaire.net/
https://www.facebook.com/VoltaireFanPage
https://www.youtube.com/user/VoltaireMusicPage
https://twitter.com/aurelioVoltaire
http://www.cdbaby.com/Artist/Voltaire1
EGO LIKENESS
Ego Likeness was created in 1999 by artist Steven Archer, a DC native, and writer Donna Lynch in Baltimore, Maryland. Taking their name from Frank Herbert's classic science fiction novel 'Dune', the band began as an experimental/ dark trip hop project.
The fifth full-length, 'Know Thine Enemy' is scheduled for release in 2015.
In addition to touring extensively with The Cruxshadows, Voltaire, Ayria, Angelspit, The Ludovico Technique, EL has had the honor of sharing the stage with The Damned, Peter Murphy, Chris Connelly, Collide, Razed in Black, Bella Morte, Das Ich, Rasputina, Iris, Decoded Feedback, The Azoic, More Machine Than Man, In Strict Confidence, Combichrist, Stromkern, New Model Army, And One, Seabound, Attrition, Assemblage 23, Nitzer Ebb, Aesthetic Perfection, Terrorfakt, The Gothsicles, Thrill Kill Kult, and many others.
EL has performed at festivals throughout the US and in Europe, including Dragon*Con (Atlanta GA), Convergence 11 (San Diego CA), Dracula's Ball (Philadelphia PA), Ring Con (Fulda, Germany), Balticon (Baltimore MD), Black Sun Festival I (New Haven CT), Freaks United (DC), Eccentrik Festival (Raleigh NC), Reverence (Madison WI), Wicked Faire (Somerset NJ), WTII Mini-Fest (Chicago IL), several Electronic Saviors Benefit shows, and others.
Archer and Lynch appear on Voltaire's album 'Then and Again', and Lynch has lent her vocals to tracks on The Dark Clan's 'Dance Magic Dance', Angelspit's 'Hideous and Perfect', and Aiboforcen's 'Dedale'.
http://www.egolikeness.com/
https://www.facebook.com/pages/Ego-Likeness/28583709766
https://www.youtube.com/user/egolikeness
BAD SEPTEMBER
Bad September is a retro-futurist steampunk art rock band based in Minneapolis MN. They use a variety of styles including rock, folk, cabaret, and chamber music to weave an alternate history of the 20th century.
Bad September has two albums: THE BRITISH EP, featuring 5 songs about a Communist uprising in England; and AUSTRIA-HUNGARY 1957, with 11 tracks about the final days of an aristocratic Europe on the brink of war. Each album also contains a variety of supplemental world-building material.
http://www.badseptember.com/
http://www.facebook.com/badseptember
http://www.badseptember.com/www.youtube.com/user/TheBadSeptember
DJ noise
Minneapolis DJ. Resident at Bondage a Go Go, Hard Mondays, and DJ for the Minnesota Rollergirls.
https://www.facebook.com/uvnoise
Don't want to see ads? Upgrade Now