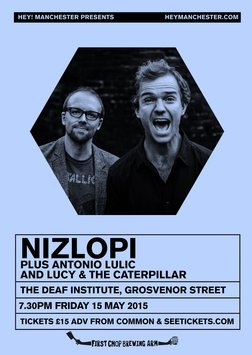 Date
Friday 15 May 2015 at 7:30pm
Description
Nizlopi are John Parker (double bass/beat box) and Luke Concannon (vocals/guitar), a duo who sound like a four piece, folk hip-hop band. They are most widely known, for being the underground, independent act that topped the UK and Irish charts with The JCB song in 2005. They have a fierce reputation for inspiring, moving, live shows often taking the show into the heart of the audience.
Having been doing their own things for the past four years, they have come back together, performing new material, songs from their two previous albums and material for Luke's new solo album Give It All. 'We immediately started writing new material in the rehearsals,' says Luke. 'The fire is as hot as ever.'
John Martyn and Danny Thompson meets The Roots and Ani Di Franco, Nizlopi play joyful, honest, atavistic, heavenly folk stories. And when Nizlopi perform live, they are a positive force like no other.
'Everything I know about live performance I learned from them' – Ed Sheeran (ex-roadie to Nizlopi)
Main support is Antonio Lulic. Raised in the North East of England, son to a South American political exile and a lass from the pit village of Trimdon, Antonio is a folk-rock singer-songwriter whose deep, gravelled vocal combines with an intimate and powerful lyrical style to deliver a uniquely soulful, passionate performance. It's perhaps because of this humble beginning that Antonio is no stranger to hard work. Since the release of his debut EP, Becomes Unstoppable, at the start of 2010, Antonio has toured relentlessly; performing for audiences all over London, up and down the UK, across Europe and all over the USA, building a loyal fanbase spread across the globe.
Opening the show is Lucy & the Caterpillar. It's a name you might be familiar with, having been a regular around the north's music scene a few years ago, earning herself much mainstream press in the process and playing alongside the likes of Adele, Florence and Laura Marling among others. After taking a brief hiatus, spending time opening her own vintage boutique shop in Hebden Bridge – which is also named 'Lucy & the Caterpillar' – and launching her own clothing label Lucille, Lucy is now back with new music, and better than ever.
Don't want to see ads? Upgrade Now