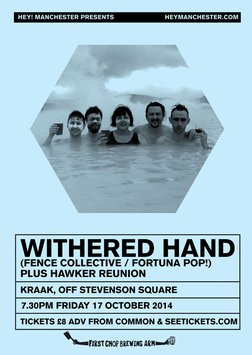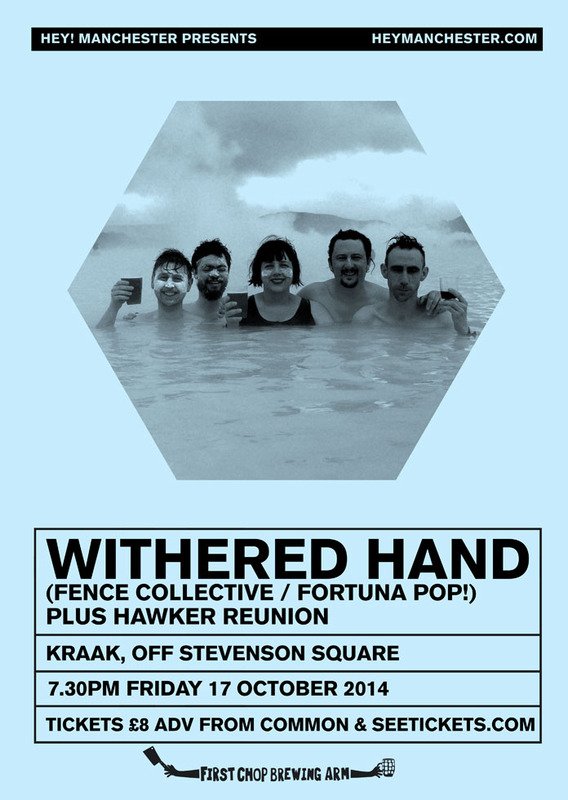 Date
Friday 17 October 2014 at 7:30pm
Location
Kraak Gallery
11 Stevenson Square, Manchester, M1 1DB, United Kingdom
Tel: 07958050730
Web: http://www.kraak.co
Description
New Gods is the second album by Withered Hand (aka Edinburgh-based folk-rock troubadour Dan Willson), released earlier this year via Fortuna POP! (UK/Europe) and Slumberland (US/Canada). The eleven meditations on love, fidelity and transience therein see Willson's songwriting hit dizzying heights: by turns confessional and melancholy, raucous and life-affirming; his trademark dark humour turned down a wee notch; life, in all its many facets, turned up to full.
Active in the world of visual art and dabbling in music for many years, Dan Willson came late to singing and songwriting at age 30, in a period of reflection between the death of a close friend and the birth of his first child. The resultant material, much of which went on to become the album Good News, was praised for its depth and startling honesty, and won him accolades from the likes of Rolling Stone and Mojo, as well as fans from Jarvis Cocker to Marc Riley. The ensuing years saw him embraced by the now-defunct Fife-based musical powerhouse the Fence Collective and his songs picked up by MTV and cult series Skins.
A prolific live performer, Withered Hand's live shows have recent included Pam Berry of seminal 90s US noise-pop band Black Tambourine (who also contributes vocals to the new album) amid a rotating cast of musical friends embellishing Dan's exuberant and original songwriting, alongside his fragile and uplifting solo performances.
New Gods saw Withered Hand entering a proper studio for the first time to work with legendary Scottish producer Tony Doogan (Belle & Sebastian, Mogwai, Mountain Goats, Teenage Fanclub), and features guest appearances from a veritable who's who of Scottish music including King Creosote, Eugene Kelly (The Vaselines), and members of Belle & Sebastian (Stevie Jackson, Chris Geddes) and Frightened Rabbit (Scott Hutchison).
Supporting are Hawker Reunion.
Price: £8 adv
More info
Don't want to see ads? Upgrade Now