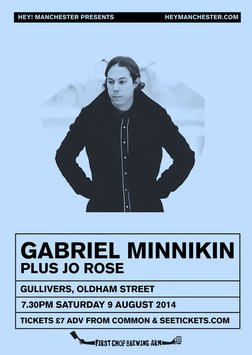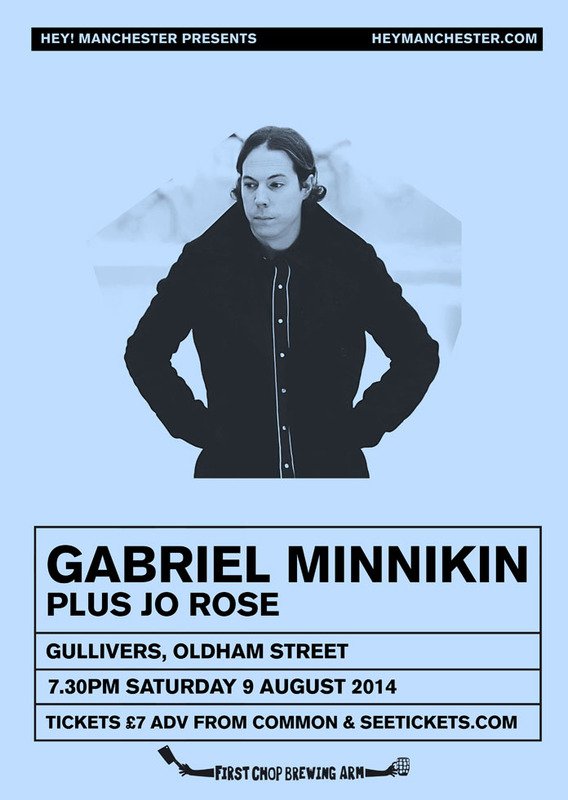 Date
Saturday 9 August 2014 at 7:30pm
Description
Born and raised in Nova Scotia (Canada), Gabriel Minnikin is a singer, multi-instrumentalist, songwriter and producer. His voice is unbelievable, ranging from the gravely depths of a bass to the richer timbre of a baritone. He has toured extensively as a soloist, been a side musician for many great artists, produced records and has even had a hand in recording a film soundtrack.
Gabriel was a member of the Canadian alt-country rock band The Guthries (signed to Hay Sale Records) in the late 1990s and early 2000s who toured extensively throughout Canada and the UK. The band released their first album, Off Windmill, in 2000, followed by the self-titled The Guthries in 2002. Following that album the band members decided to pursue solo projects.
In 2004 Gabriel made Manchester his home. That year he released his critically acclaimed debut record, Hard Feelings, establishing him as a recognised singer/songwriter in his own right. In 2006 he found himself back in Canada, recording what would be his sophomore release Wandering Midnight. Despite being a relatively unheard record, it did produce some interest from fans, labels, and press. He has gained radio support from John Peel and Bob Harris, and is a regular on BBC Radio Manchester.
As a soloist he has been fortunate enough to tour and share stages with great artists including Calexico, The Handsome Family, First-Aid Kit, Justin Townes Earle, & Caitlin Rose to name but a few.
Although Gabriel's musical roots are in the pedal steel and banjo sheen of classic Americana, his third record Parakeets with Parasols, brings a grandiosity and cinematic sweep to his country-folk stylings. Think Tom Waits meets The Wizard of Oz.
Support comes from fellow Hey! Manchester favourite Jo Rose, who will be releasing his debut album later this year. Expect one or two duets!
Price: £7 adv
More info
Don't want to see ads? Upgrade Now