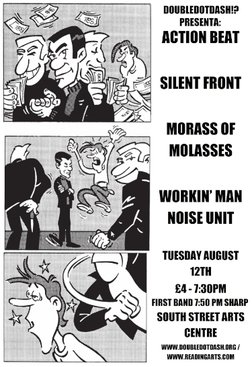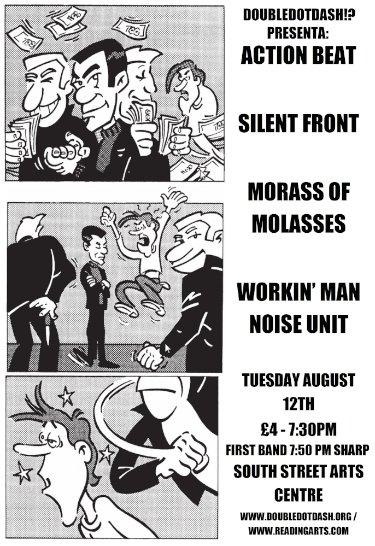 Date
Tuesday 12 August 2014 at 7:30pm
Description
this is an econo band night.
number 44.
with...
ACTION BEAT (bletchley)
instrumental symphonies of destruction from the bletchley rebels. like early sonic youth, only topless. like glenn branca at his most discordant, only more energy. action beat are nearly ten years old. their latest record features vocals from g.w. sok, former frontman of legendary dutch band, THE EX.
https://www.facebook.com/actionbeat
https://soundcloud.com/actionbeat
SILENT FRONT (kingston-upon-thames)
silent front are truly phenomenal, punching out beautiful songs based around staccato beats, passion and a raging guitar. influences range from the obvious likes of fugazi to the more esoteric.
https://www.facebook.com/silentfront
http://silentfront.bandcamp.com/
MORASS OF MOLASSES (reading)
"like a half submerged man slowing crawling onto dry land; not yet completely visible. dragging behind him all that he has experienced. thick with mud, drenched with sweat. feral, but subdued, waiting for the moment to drag you down."
https://www.facebook.com/MorassOfMolasses
http://morassofmolasses.bandcamp.com/
WORKIN' MAN NOISE UNIT (reading)
an energetic, distorted mess of riffs and howled vocals. break out the cold ones.
http://blackleatherenergy.blogspot.co.uk/
http://workinmannoiseunit.bandcamp.com/
this will cost 4 pounds to get in. there are weary road warriors in need of your custom. represent.
FIRST BAND ON AT 19.50.
Don't want to see ads? Upgrade Now