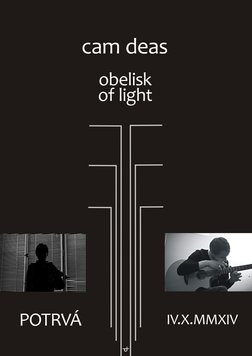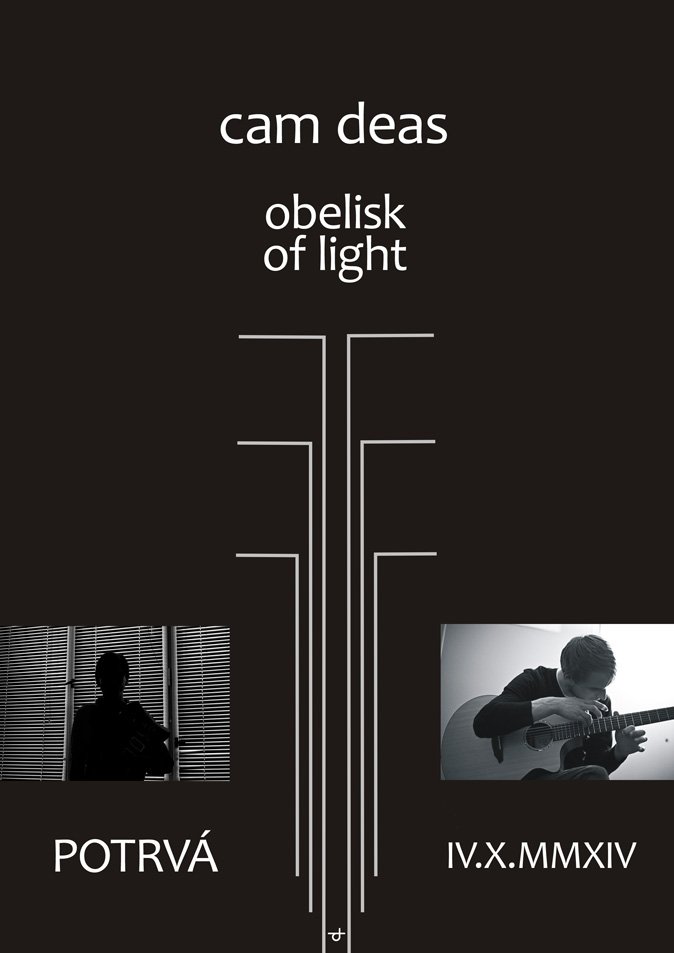 Date
Saturday 4 October 2014 at 7:30pm
Location
Kavárna Potrvá
Srbská 347/2, Praha, 16000, Czech Republic
Tel: 222 963 707
Web: http://www.potrva.cz
Description
Letmo Productions & Cáry mlhy:
Na sobotu 4. října chystáme v Potrvá večer pro kytary jinak, s Obelisk Of Light a Cam Deasem.
Obelisk Of Light je sólový projekt Jana Kašpara mj. z královehradeckých Pavilon M2 a Enviro, kterého bylo přes prázdniny možné potkat rovněž v projektu Sítě nebo v rámci orchestru Tomáše Paluchy. Obelisk Of Light jsme viděli před Laraajim a Sun Araw a jeho set se nám dost líbil, stejně jako většině z ostatních asi deseti diváků. Hodně vydařeně zní také chystaný split právě s projektem Sítě.
Jeho kytarový ambient par excellence se nebojí ani intenzivnějších momentů, přestože většinou hladí a kolébá, občas připomene i původní post rock typu Labradford nebo Stars Of The Lid. A má neomylný instinkt vyhmátnout přesně takové frekvence a postupy, které vás zasáhnou.
Britský virtuos 12-strunné akustické kytary Cam Deas se vrací už poněkolikáté a tentokrát v radikálně odlišné poloze. Turné s obstarožním modulárním syntezátorem, skrz který "krmí" svou kytaru do aparatury, ukazuje jeho hudbu v méně romantickém, avšak o to víc experimentálním světle. Vzdálenější hájemství Jamese Blackshawa, mnohem blíž k musique concrète. Ta je nekompromisně disharmonická a živě pulsující.
Za poslední rok ho bylo možné slyšet například ve společnosti Jandeka, Cameronova obliba labelu PAN pak může taky lecos napovědět o jeho současném směřování. V rámci aktuálního turné ho můžete vidět i v jiných českých městech nebo o pár dní později taktéž na slibném polském festivalu Avant Art ve Wrocławi (po boku Supersilent, Keiji Haina, Stephena O'Malleyho a dalších).
V Praze vystoupí 4.10. od 19:30 v kavárně Potrvá (Srbská 2, Praha 6).
Vstup na místě 180,- nebo 150,- v předprodeji ( http://goout.cz/cs/koncerty/cam-deas-obelisk-of-light ).
http://camdeas.bandcamp.com
http://letmo.net/productions
http://carymlhy.blogspot.cz
http://www.potrva.cz
Cameron Deas is an experimental musician based in London. Currently working with electronics, he uses an integrated array of synthesis techniques that are triggered by, and in turn manipulate, external acoustic sound sources, in and out of conjunction with pure electronic sounds. Working in an entirely live environment, Deas creates a kind of real-time musique concrete, resulting in an abstract yet organic contemporary electronic music. Also known for his work as a guitarist, Deas's debut LP for this electronic project, String Studies, is a suite that focuses on using the 12 string acoustic guitar as the sole sound source of this live musique concrete: a wooden frame to an electronic music. String Studies will be released this summer on Alter.
This tour will be partly based on String Studies, using samples of 12 string acoustic guitar as raw material for processing whilst introducing a gestural approach to more pure analogue and digital electronic sources, still working towards a similar dense, immersive yet organic approach to an entirely live contemporary electronic music.
"...the notes of his 12 string acoustic are raw material for violent sculpture, torn apart and flung about separately by the manipulations of his modular synth, bouncing around the space in a hyper-kinetic match of sound squash." The Wire, April 2014
Don't want to see ads? Upgrade Now
5 went
Deleted user