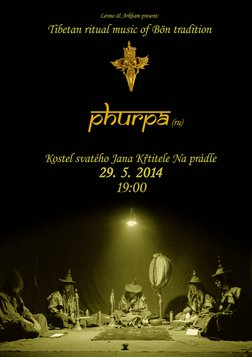 Date
Thursday 29 May 2014 at 7:00pm
Location
Kostel Svatého Jana Křtitele Na Prádle
Praha, Czech Republic
Description
Letmo & Arkham present Tibetan ritual music of Bön religion:
Phurpa je ruské hudební a performační seskupení praktikující autentickou rituální hudbu tradice Bön, nejstarší (pre-)buddhistické tradice z Tibetu, s využitím ceremoniálních nástrojů a speciální tantrické techniky hrdelního zpěvu. Při ní dochází během vokální meditace i k fyzickým proměnám hlasivek, ke kterým přispívá také cvičení v poloze vzhůru nohama nebo pití černého čaje s tukem a chilli.
Zakládající člen Alexei Tegin se věnoval současné a industriální muzice na Cardinal Art Factory v Moskvě a v polovině 90. let tamtéž zahájil své experimenty s hudbou tradiční a rituální, přičemž zásadní pro něj bylo osobní setkání s několika zpívajícími mistry této spirituální odnože buddhismu. Phurpa vznikla až v roce 2003 jako veřejný projev studia starodávných tibetských liturgií, kterému se všichni členové dlouhodobě věnovali. Kromě svých hlasů používají škálu zmíněných nástrojů, mezi nimiž jsou pro našince i některé exotičtější, jako např. dungkar (trubka z obrovské lastury), dungchen (tři metry dlouhá trouba), damaru (buben z lidské lebky) nebo kangling (trubka z lidské stehenní kosti).
Bez ohledu na spirituální kontext je hudba Phurpy masivní drone lázeň fascinující v detailech, jež se minimalisticky obměňují, takže není ani velké překvapení, že jim vydal repress jedné nahrávky Stephen O'Malley ze Sunn O))) na Ideologic Organ, jinak sublabelu Editions Mego, nebo že v roce 2012 uzavírali berlínský CTM festival.
V Praze vystoupí jako dvojice 29.5. od 19:00 v Kostele svatého Jana Křtitele Na prádle (Říční 6, Praha 1). Koncert bude trvat se vší pravděpodobností přes dvě hodiny, zvolte vhodné oblečení. Vstup na místě 250,- předprodej za 220,- ( https://goout.cz/cs/listky/phurpa/gk/ )
http://www.phurpa.ru
http://phurpa.bandcamp.com
http://www.discogs.com/artist/1644117-Phurpa
http://letmo.net/productions
http://www.arkham.hys.cz
"Gongs, Gamelan flourishes and archaic woodwinds aside, the bulk of the recording is made up of what the unprepared would describe as death metal's guttural growl pitched down and solo; extraordinarily technically impressive, its unremitting force bludgeoning any adjectives it could be described with. Yet even the listener knowledgeable about Tibetan ritual music will be alienated by the lower key and slowed pace generating the record's ominous industrial quality. Ultimately any type of qualitative assessment of such a unique piece seems relatively pointless, the record is a daunting, astonishing and exhausting exploration of vocal fetishism, tradition and extremity." (Foxy Digitalis)
Phurpa is a throat singing choir deeply rooted in the ancient magical traditions of the pre-buddhist Bön religion. While staying true to authentic practices and using ritual instruments, the choir takes the poly-phonic singing style of Tibetan ritual music to a lower key and a slower pace to invigorate archaic sonic evolutions of spectral glory.
Phurpa's voyage began in mid 90s Moscow, when a group of artists and musicians led by Alexei Tegin and based at the legendary Fabrique of Cardinal Art began studies of traditional ritual music, drifting away from the field of contemporary electroacoustic and industrial music with the intent to delve deeper into the ancient musical cultures of Egypt, Iran, and Tibet.
The original 2003 line-up of the resulting project was dubbed Phurpa (one of the five tutelary deities of the Father Tantra in the Bon tradition). All members continued to pursue research in the field of Bon and Buddhist liturgies up to the present day, recently releasing a critically acclaimed Phurpa album on Stephen O'Malley's Ideologic Organ label.
Before Buddhism reached Tibet, local people practiced shamanic rites derived from various ancestral cults. Later on, circa the 6th–9th century AD, a conflict between the local tradition, namely, the pre-Buddhist religion of Bon (which originates from Central Asia) and Tantric Buddhism (hailing from the North of India), gave birth to a unique cultural phenomenon known as Tibetan Buddhism, which combines an extensive metaphysical corpus and an advanced philosophical system with pristine ceremonial practices that reach down through many centuries.
In the 10th-11th century AD, the monastic ensemble came into being. While sharing much in common with the Chinese court ensembles of the Tang dynasty, the Tibetan ceremonial ensemble has, to this day, preserved its authenticity and kept a large number of primordial elements from the ancient Tibeto-Burmanese music intact.
One of the unique features of the Tibetan monastic choir is a specific kind of overtone chanting, called "rgyud-skad", or the Tantric voice, which is based on the principle of the singer's transmogrification during the so-called "chanting meditation". This technique is achieved through an extensive training, including both meditation and physical, breathing and vocal exercises. Special training includes standing on your head while rehearsing (in the inverted position, lungs and vocal cords works more efficiently) and also drinking black tea with chilli pepper and cream – hot pepper is irritating your vocal cords, so they are swelling up a little, while cream (or any other kind of grease or oil) acts as a lubricant.
Phurpa uses ritual Tibetan instruments to perform their music, which includes dungkar (horn made out of huge seashell), dungchen (three-metre-long horn/trumpet), silnuyen (flat cymbals), nga (double-sided drum), damaru (drum, made out of human skulls), kangling (human thighbone trumpet), shang (bon tambourine), rolmo (other type of cymbals), etc.
They will perform as duo in Prague on May 29th, 19:00 at Kostel svatého Jana Křtitele Na prádle (Říční 6, Praha 1). The concert will most likely last more than two hours, please choose suitable clothes wisely. Entry at door 250czk, pre-sale available for 220czk ( https://goout.cz/cs/listky/phurpa/gk/ )
Don't want to see ads? Upgrade Now