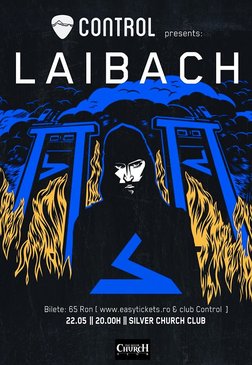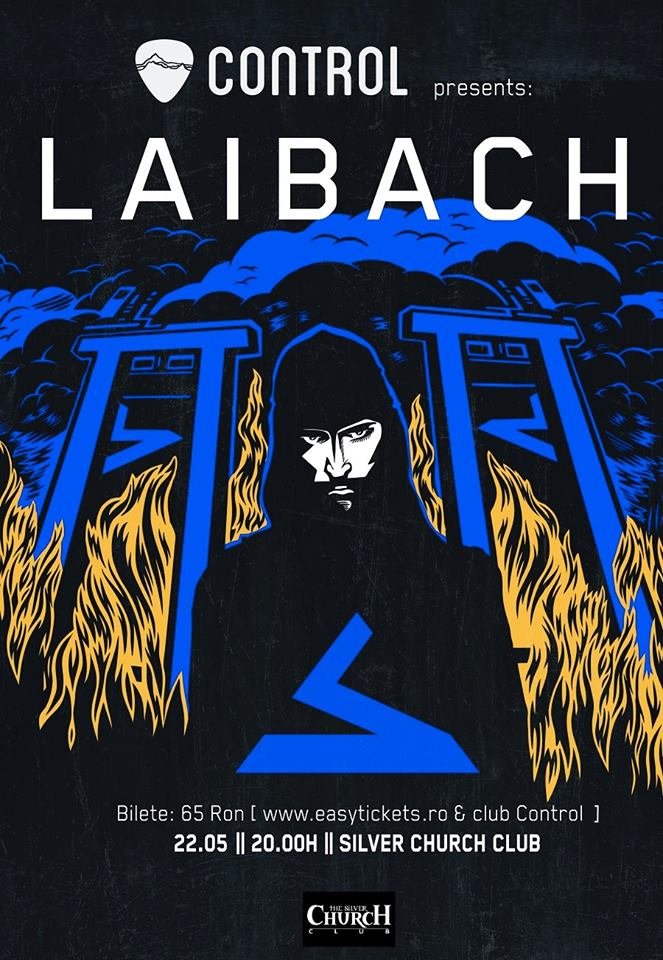 Date
Thursday 22 May 2014
Location
The Silver Church Club
Calea Plevnei Nr. 61, Bucharest, Romania
Tel: 0733.106.064
Description
Control Club presents @ The Silver Church:
LAIBACH live performance
Joi 22 mai, Laibach - grupul industrial /dark wave/ avangarde, de origine slovenă , revine la Bucureşti, într-un turneu de promovare a celui mai recent album, "SPECTRE", lansat în luna martie a acestui an. Evenimentul este organizat de club Control cu sprijinul The Silver Church Club.
Intrare: 65 lei.
Biletele se pot achiziționa în avans din club Control ( Str. C-tin Mille, nr. 4) sau online, în sistem "print at home" de pe www.easytickets.ro.
★ ★ ★
Cu o activitate ce a îmbinat controversa cu forta inovatiei, jongland cu arta, politica si filosofia, Laibach se bucură de o reputație interesantă și mare recunoaștere la nivel internațional.
Deși au început în iunie 1980 ca un colectiv muzical și artistic în Slovenia, Laibach s-au făcut remarcați la nivel mondial în primul rând prin muzică, discografia lor numărând peste 30 de albume lansate în diferite formate (CD, vinil, casete audio, etc). Grupul a avut o implicare multi-disciplinară, vizând multe domenii, de la cultura populară la cross-media și arta performativă (colaje, fotocopii, postere, grafica, pictura, video, instalații, concerte și spectacole). Membră și reprezentantă a mișcării culturale Neue Slowenische Kunst, Laibach s-a confruntat cu multe problematici, stârnind reacții puternice din partea autorităților politice din fosta Iugoslavie și mai ales în Republica Socialistă Slovenia natală.
În 1983 au inventat și definit termenul istoric de "retro-avangarda" și au chestionat în mod constant, din punct de vedere artistic, termeni precum citat, însușire, re-contextualizare, drepturi de autor și copiere. Laibach pune în practică conceptul de operă colectivă, demontând latura individuală a artistului și stabilind principiul hiper-identificării.
Elementele specifice Laibach regăsite în toate formele lor de manifestare artistică sunt: referințele puternice la istoria artei avangardiste și la realismul socialist pentru producția lor de artă vizuală, de-individualizarea prin aparitiile pe scena sub forma unui cvartet anonim, îmbrăcat în uniforme depersonalizante, proclamațiile conceptuale și performance-urile cu un sound puternic încadrat intr-o zonă muzicală (pop) industrială.
LAIBACH "Eurovision" - www.youtube.com/watch?v=GOffk1G6OX8
★ ★ ★
Lansat la Mute Records, SPECTRE este primul album de studio Laibach în 8 ani, un adevărat manifest în formă poetică. Magnific și grav, dar în mod formal vesel, proaspăt și provocator, SPECTRE iese din umbră și aduce la lumină o serie de piese și idei noi cu care Laibach își restabilește poziția grandioasă pe scena muzicală internațională.
Cu SPECTRE, Laibach s-au "reinventat" pe sine într-o forma plină de prospețime, dar în același timp cizelată și solidă. Trupa pune în discuție toate interpretările rigide, precum și prejudecățile despre ea însăși, despre muzica și intențiile sale, despre propria filozofie și ideologie.
Versiunea extinsă a albumului include patru piese bonus, inclusiv Love On The Beat, o adaptare Laibach a celebrei piese a lui Gainsbourg și adaptarea unui vechi blues al lui Blind Lemon Jefferson - See That My Grave Is Kept Clean, piesa pe care Laibach a înregistrat-o inițial pentru producția de teatru Die Macht der Finsternis (Puterea Intunericului), de Lev Tolstoi.
Website: www.laibach.org
Facebook: www.facebook.com/Laibach
Youtube: www.youtube.com/user/laibach/
Vimeo: https://vimeo.com/laibach
Instagram: http://instagram.com/laibachofficial
About Spectre:
"Laibach's endlessly provocative pop-art has made the average Turner Prize winner seem like a child getting a little bit transgressive with its Lego." (The Quietus)
"For pop fans there's a fair amount to like on Spectre." (Classic Pop)
"Spectre is proof that no one does it better." (The Wire)
"Bewildering, ambitious and ripe for misinterpretation and overanalysis…" (Rock A Rolla)
"Laibach's most uplifting pop moment." (Terrorizer)
"Spectre is a sledgehammer of an album." (Freq)
Coming up with more details.,
Don't want to see ads? Upgrade Now
21 went
Deleted user