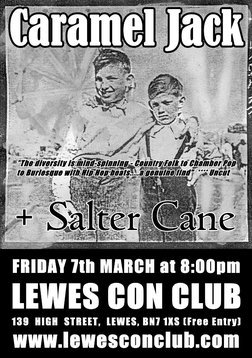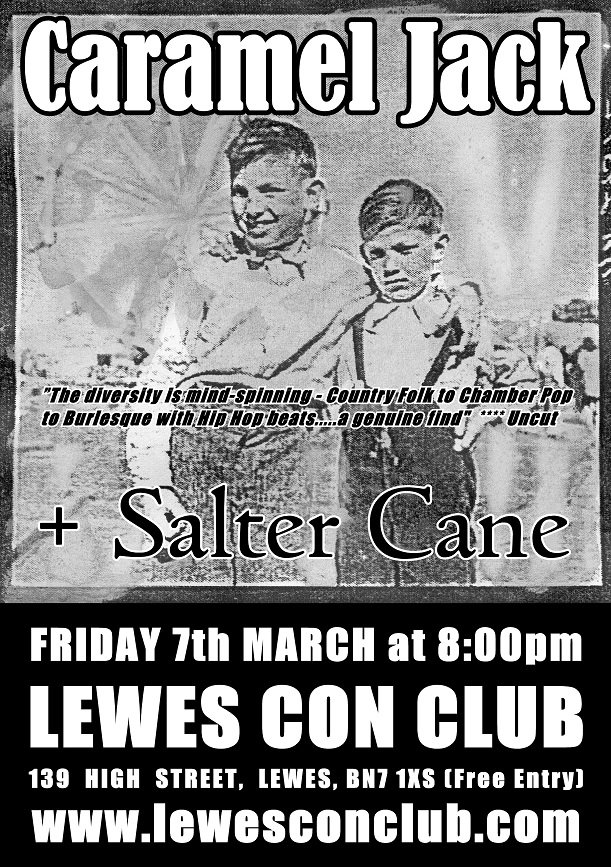 Date
Friday 7 March 2014 at 8:00pm
Location
The Con Club
Lewes, United Kingdom
Description
Caramel Jack
Brighton Americana 4 piece Caramel Jack return to the Con Club and will be highlighting songs from their forthcoming album "Pinkerton In Love". The band came to national attention in the last decade with a trio of albums; "Seven Brides for Caramel Jack", "Songs From Low Story" and "1900", that garnered 4 star reviews in Q, Mojo, Uncut and the Independent, high profile support slots with Regina Spektor, Pernice Brothers, Clem Snide, Peter Bruntnell and Mark Mulcahy and Radio 6 airplay.
"It's wonderful stuff - imaginative, intelligent and melodic to boot" **** Q
"The diversity is mind-spinning - Country Folk to Chamber Pop to Burlesque with Hip Hop beats.....a genuine find" **** Uncut
"Sublime" **** Independent On Sunday
www.facebook.com/CaramelJackMusic
Salter Cane
Hailing from the southernmost reaches of Great Britain, these four players trade in ballads of melancholy & tales of murder. A malevolent country-noir fracas that is masterful as it is brooding. Dark heavy folk that really twists the knife....
www.saltercane.com
The Con Club, 139 High Street, Lewes, East Sussex, BN7 1XS
Friday 7th March at 8:00pm (Free Entry)
Tel - 01273 473076
Email - info@lewesconclub.com
Don't want to see ads? Upgrade Now