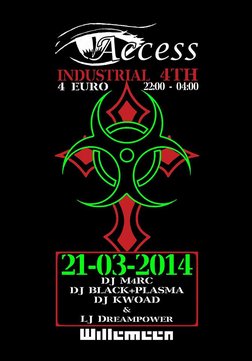 Date
Friday 21 March 2014 at 10:00pm
Location
Willemeen
Willemsplein 1, Arnhem, 6811 KA, Netherlands
Tel: (+31) 26 442 60 21
Description
Welcome to another Edition of Access Industrial Party!
We will once again have 2 area's available at the café of youthcenter
Willemeen, Arnhem.
The café itself will be a lounge area with normal volume music so you are
able to talk to eachother.
The backstage of the café will be transformed into an underground
dark/danceroom to go completely nuts.
This is not only our fourth edition, but also the "official/unofficial
birthday party of Naomi Lindenberg. For the ones who come in early this
edition there might be a little something extra, more info will follow so
keep a good eye on our page.
See you all there.
Don't want to see ads? Upgrade Now