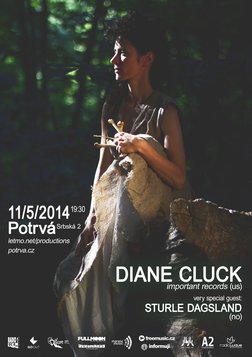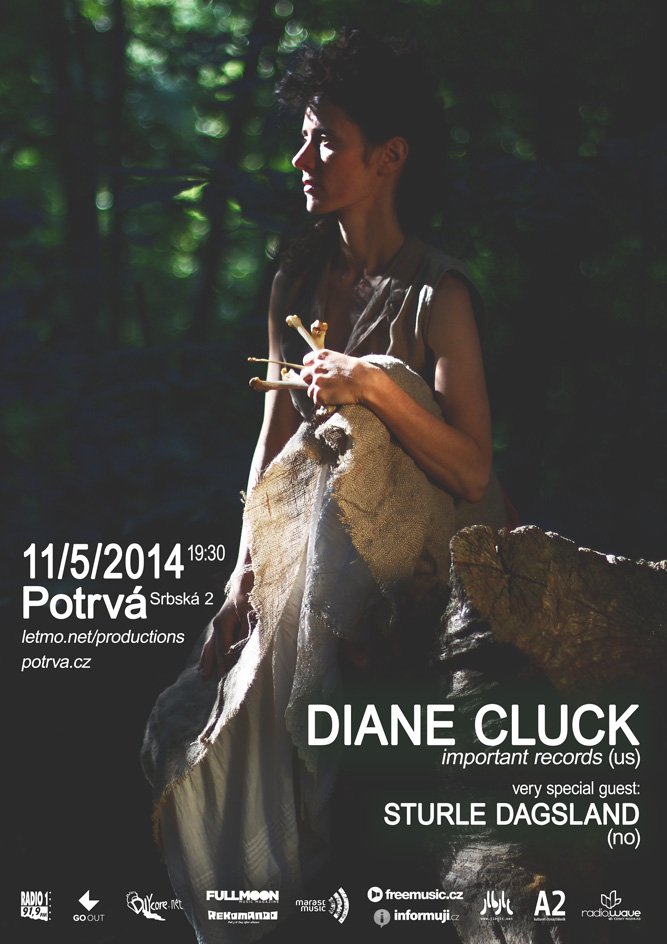 Date
Sunday 11 May 2014 at 7:30pm
Location
Kavárna Potrvá
Srbská 347/2, Praha, 16000, Czech Republic
Tel: 222 963 707
Web: http://www.potrva.cz
Description
Diane Cluck byla v době boomu nezávislých písničkářů na přelomu milénia nepochopitelně spíš ta nepovšimnutá v pozadí, přestože se o ní její mnohem slavnější kolegové vždy vyjadřovali téměř s až posvátnou úctou a především přestože patřila mezi ty nejoriginálnější a s nejsilnější výpovědí. Pro Devendru Banharta, který ji zařadil i na svou kompilaci Golden Apples Of The Sun, byla "nejlepší písničkářkou v celém New Yorku" a "byl šťastný, že žije ve stejné době, jelikož jí může vidět hrát živě". Biancu Casady z CocoRosie, jejíž vydavatelství Voodoo Eros zase vydalo Dianino album Countless Times, její zpěv "dostává do země nekonečných možností", "má z něj husí kůži, rozbourá a rozpláče ji". Antony Hegarty vnímá Dianu jako "virtuózní talent s naprosto podmanivým zvládnutím svého hlasu jako extatického nástroje". Tak by se dalo pokračovat ještě chvíli.
Skladby Diane jsou jak čerstvě vysekané diamanty třpytící se ještě v prachu okolní matérie – bez zbytečných aranží a dodatečného pulírování, téměř slyšitelně rodící se z ticha a vnitřního přetlaku. Zpěv, který magnetizuje svou nenucenou hravostí, lehkostí a čistotou, je obvykle doprovázený skrytě pulzující kytarou, která by sama o sobě normálně utrhla větší kus vaší pozornosti nebýt pravě fascinujícího vokálu. Nabízí se přirovnání k některým muzikantkám hippies éry jako třeba Joni Mitchell, ale hudba Diane Cluck se zdá být mnohem osobnější a tím pádem i trochu izolovanější. Kdo do ní ovšem pronikne, pro toho není cesty zpět.
Domácky pojaté nahrávky kulminovaly asi nejpovedenějším albem Oh Vanille/Ova Nil, znovuvydaném labelem Important Records roku 2005, které opakovaně potvrzuje svůj název jako fakt. Poté se Diane Cluck vytratila z veřejného dění stejně nenápadně jako se i zjevila. Po dlouhých sedmi letech se vrací zpět s novým ep Boneset u stejného vydavatelství. Zdá se o něco dospělejší, v její hudbě si trvalé místo našlo i cello Isabel Castellvi a hlavně se vydává opět i na turné.
V roce 2005 se nenápadně mihla v Praze v dnes už neexistujícím klubu Harfa v roli předkapely, která jí naprosto nenáležela. To samé se pak dá říct i o norské kapele Sturle Dagsland, jež bude na letošní pražské zastávce Diane Cluck plnit roli "supportu", přestože jde o záležitost, co by si suveréně zasloužila vlastní plnohodnotný koncert, i když jde o velmi mladé bratrské duo.
Možnosti spojit tyto dvě věci dohromady ovšem nešlo odolat. Jestliže těch pár nahrávek na síti, co zatím Sturle Dagsland mají, přináší velmi příjemný pop v tom nejlepším slova smyslu, na nějž nejmenovaný kolega z rádia reagoval stylem "Cocteau Twins jim musí závidět", živé fragmenty věští mnohem větší divočinu a experiment. Expresivní a nezařaditelný projev potvrzuje dávný stereotyp o norské scéně, kde je každý druhý obyvatel pravděpodobně hudební génius. V Praze vystoupí v triu, chtěním náhody taktéž s cellem.
V neděli 11.5. v kavárně Potrvá (Srbská 2) od 19:30. Vstup v předprodeji za 200,- přímo v Potrvá nebo v síti Ticketstream (plus jejich poplatky), na místě 250,-
http://dianecluck.info
https://www.facebook.com/sturledagsland
http://www.letmo.net/productions
http://www.potrva.cz
Diane Cluck is a Virginia-based singer-songwriter. Her ecstatic vocal style has been noted for its uniquely clipped, glottal beauty. She accompanies herself on instruments ranging from guitar to piano, harmonium, zither, percussion, and toy accordian, and often plays alongside cellist Isabel Castellvi.
Diane releases her seventh album, Boneset, through Important Records on March 4, 2014—a mobius strip seeded with birds, death, wealth and poverty, boldness and heart. "Cluck's sparse compositions seem to float defiantly from some fortress the conscious self had long left behind", a reviewer from The Providence Phoenix recently wrote.
Fellow folk musician Devendra Banhart championed her early, referring to her as "my favorite singer-songwriter in all of New York City", and choosing one of her songs for his Golden Apples of the Sun compilation. Other supporters / collaborators include CocoRosie, who invited Cluck to open shows in the U.S. and Europe and released her Countless Times album through their personal label imprint. Sharon Van Etten, Florence Welch (of Florence And The Machine), and Laura Marling have all cited Diane's work as influential.
Prior to developing a loyal underground fanbase, Cluck was a standout performer in New York's Lower Manhattan and Brooklyn music scenes. She recorded and self-produced six albums that went on to receive international distribution and acclaim. Songs from her album Oh Vanille / ova nil appeared in Noah Baumbach's film Margot at The Wedding and the U.K. television series, Skins.
In 2012 Diane launched Song-of-the-Week–a fan-funded, subscription-based project through her website (http://dianecluck.info/sotw-songs) in which she writes, records and delivers new songs to subscribers. The process helped her develop many of the songs that appear on Boneset, and continues to generate new material for her live shows and future albums.
________________________________________
PRESS QUOTES:
"Diane Cluck is a virtuosic talent with an emotionality that feels at once ancient and alien. Her mastery of her voice as an ecstatic instrument is so compelling." -Antony Hegarty (of Antony & The Johnsons)
"An unlikely mix of Aaron Neville, the Baka people, and Joni Mitchell, Cluck's singing is unaffected yet unusual." -NPR."
"Bell-clear and hotly austere, her lithe, dynamic voice hasn't much kin. Categorizing her as folk is simplistic. (Cluck) emanates something humble but mythic. Appalachia or ancient Athens?" -Time Out New York
"When Diane sings, I am lost in a realm of infinite possibilities. She breaks me down, she gives me chills, she makes me cry–this is when I love music. " -Bianca Casady (of CocoRosie)
"Diane Cluck seems like more of a force of nature than a mere singer/songwriter. She is the rare archetypal artist (without ironic quotes) though whom something pure and true flows." -Brainwashed.com
"She made me rethink my singing instincts. Diane is not just an amazing and interesting singer, she's a philosopher." -Sharon Van Etten
"Her songs have an irregular, or even cellular, logic." -Other Music
"Naked songs filled with movement and metamorphosis…primal yearnings reminiscent of the broken coo of an outraged owl or howling bark of a horny dove…contagiously introspective and joyfully declarative." -Voodoo-Eros
"Diane Cluck is the kind of singer/songwriter that is hard to discuss…The poetry that that voice is pouring out is inimitably gorgeous." -Death + Taxes Magazine
Don't want to see ads? Upgrade Now