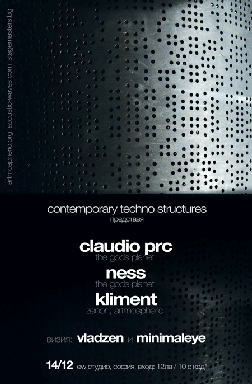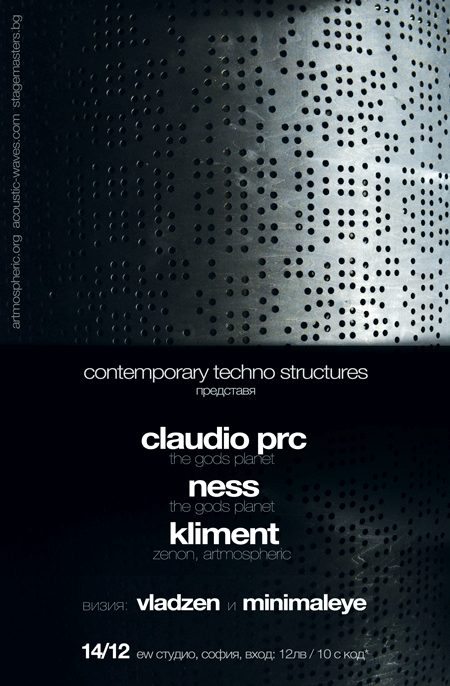 Date
Saturday 14 December 2013 at 10:30pm
Location
EW Studio
Sofia, Bulgaria
Description
*for english scroll down
Поредният италиански гост на Contemporary Techno Structures е Claudio PRC. Направил впечатление още с първите си издания за Prologue, където през 2012-а издава и албума "Inner State", днес Клаудио е сред утвърдените имена в дийп техно сцената, постоянно присъствайки със собствена музика и съвместна продукция с артисти като Terence Fixmer, Obtane, Ness.
Една от най-сполучливите колаборации е именно с Ness - негов приятел и съгражданин, който от известно време живее в София и в момента е сред основните радетели за Contemporary Techno Structures. Под името The Gods Planet двамата издават съвместната си продукция, като лейбълът (TGP) наскоро анонсира своето пето издание, което включва и ремикс на добре познатия ни от Артмосферик фестивал Донато Доци.
Хипнотичният и трансиращ привкус на вечерта е идеален повод да си припомним също какво е лайв на Климент, който по една или друга причина, оказва се, не е свирил в София от почти две години - период, през който с различните си проекти издаде два албума, а в момента работи по трети.
За визията ще се погрижат context-free експериментаторът minimaleye и Vladzen, който пък същевременно заедно с колегите си от Phormatik Visual Lab представя изложбата Phantasmagoria от 1-и до 3-и декември в галерия Suspacious.
Вход: 12 лв / 10 лв с код или с гривна от Артмосферик фестивал 2013 (абонатите на мейлинг листата на Артмосферик могат да намерят своя код в последното получено писмо)
*Ако случайно все още носите гривната си от Артмосферик фестивал 2013, нямате нужда от код.
Елате рано, капацитетът е ограничен до 120 души.
__
For December's gig we are glad to introduce another Italian artist - Claudio PRC. Known since his early works for Prologue - the label which later released his debut album "Inner State" - he is now established as a key name in deep techno scene, playing around the globe and regularly releasing his own music and collaborations with other artists like Terence Fixmer, Obtane, Ness.
The latter is also in for 14th. Since he moved to Sofia last year, Ness became one of the main contributors for the Contemporary Techno Structures events. Under the alias 'The Gods Planet' Claudio and Andrea release their production on TGP - the homonymous label has five EPs in its catalogue so far, featuring also remixes from the likes of Brando Lupi and Donato Dozzy.
We are also looking forward to the first appearance of Kliment in Sofia after a (too) long break. For that period the co-founder of Artmospheric released two albums (one of them under his psytrance moniker Once Upon a Time..) and is currently working on another, ambient one.
VJ line-up consists of the context-free geek minimaleye and Vladzen who is showing his latest works with Phormatik Visual Lab called Phantasmagoria at Suspacious Gallery, December 1-3rd.
Entrance: 12 bgn / 10 bgn with discount code or Artmospheric Festival 2013 wristband on your hand (artmospheric mailing list subscribers can find their code in the latest newsletter)
Venue capacity is limited to 120ppl so we recommend you come early.
Don't want to see ads? Upgrade Now