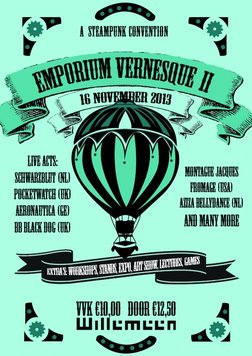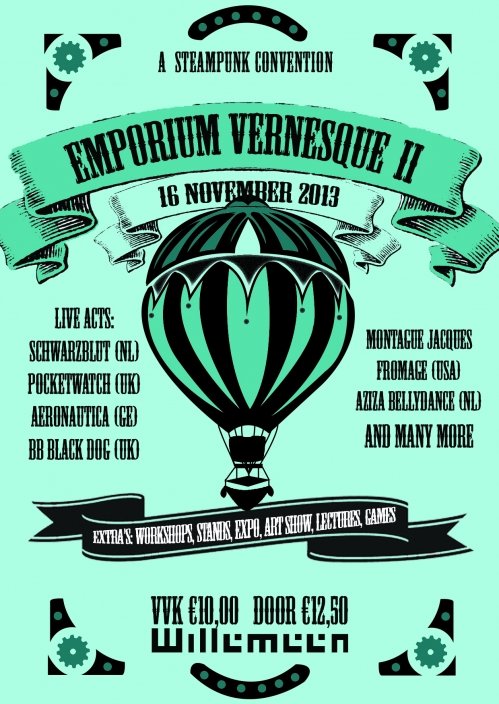 Date
Saturday 16 November 2013 at 12:00pm
Location
Willemeen
Willemsplein 1, Arnhem, 6811 KA, Netherlands
Tel: (+31) 26 442 60 21
Description
Emporium Vernesque is het Steampunk evenement van Nederland dat zich richt op het bij elkaar brengen van liefhebbers van het Steampunk genre. Hierbij wordt er een uitgebreid programma geboden waarbij muziek, shows, workshops, spelletjes en lezingen een belangrijke rol spelen.
De tweede editie van Emporium Vernesque zal plaats vinden op 16 november! Zorg dat je erbij bent!
"The organisation of this brand new steampunk convention has done a great job offering a wide variety of workshops, performances of both bands and tribal dance, and other things to participate in"
- The Gatehouse, online dieselpunk and steampunk magazine
Inmiddels is het programma van Emporium Vernesque in grote lijnen bekend. Een groot verschil met de vorige editie is de toevoeging van een heus filmtheater in de bovenzaal van Luxor op enkele tientallen meters van Willemeen, dat wederom de hoofdlocatie zal zijn. Bezoekers kunnen hun entreekaartje bij Willemeen inwisselen voor een bandje en zullen hiermee ook Luxor kunnen bezoeken. Verder zal het programma gevuld zijn met nog meer bands, workshops, lezingen en exposities van artiesten uit Europa en Amerika.
Don't want to see ads? Upgrade Now