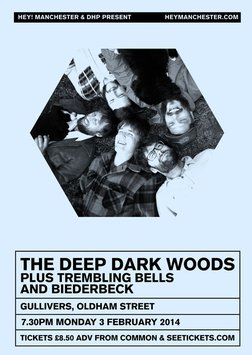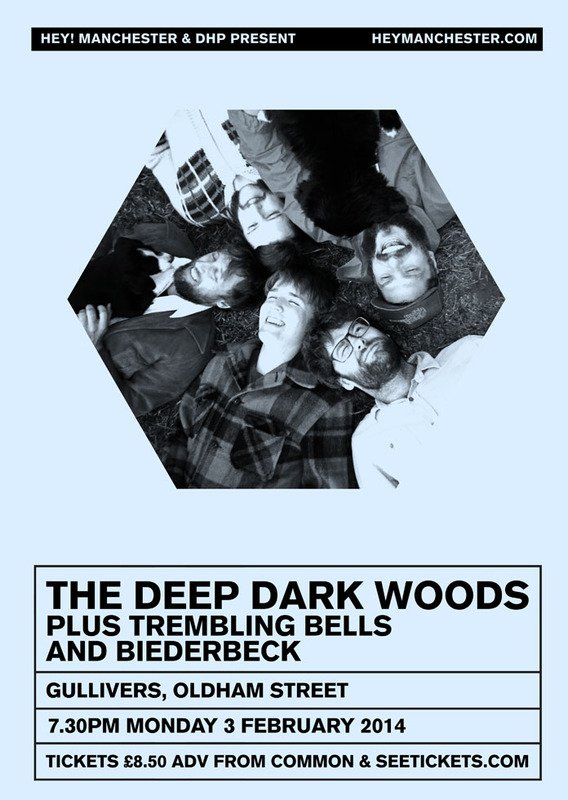 Date
Monday 3 February 2014 at 7:30pm
Description
The tight-knit members of The Deep Dark Woods are old friends and trusted collaborators. Lead singer Ryan Boldt writes most of the lyrics, but songwriting credits on latest album Jubilee are also shared with Chris Mason, Lucas Goetz, former bandmate Burke Barlow and new addition Clayton Linthicum. The band recorded Jubilee mostly live off the floor, which allowed for a collective and often spontaneous approach to songcraft. Lyrically, Jubilee shows artistic growth and finesse, and the new album features some of band's finest songs yet.
Fond of and adept at improvisation and experimentation on stage, The Deep Dark Woods have cultivated a moveable scene of like-minded artists. The desire to translate the intuitive aspects of their live performances to a record led them to producer Jonathan Wilson. As patron saint of the present-day Laurel Canyon folk revival, which breathes new life into California's richly experimental musical history, Wilson is a going concern in the woozy world of neopsychedelic breakout acts, most notably as producer of Father John Misty's 2012 success Fear Fun.
The Deep Dark Woods have appeared at numerous high-profile festivals and stages, including Newport Folk Fest, Bonnaroo, Austin City Limits and at Terrapin Crossroads in San Francisco, where they were joined by jam-band legend Phil Lesh. The band has made a fan of influential BBC roots guru Bob Harris, and recently made their silver screen debut in Save Haven, the newest Nicholas Sparks blockbuster film.
Tour support comes from Trembling Bells. Trembling Bells are Alex Neilson's song-based group who seek to reanimate the psychic landscapes of Great Britain and relocate them to some vague, mythic land where basic human crises are encountered and conquered. The Marble Downs, the band's fourth recent album, is a collaboration with Will 'Bonnie Prince Billy' Oldham.
Biederbeck open.
Price: £8.50 adv
More info
Don't want to see ads? Upgrade Now