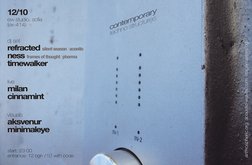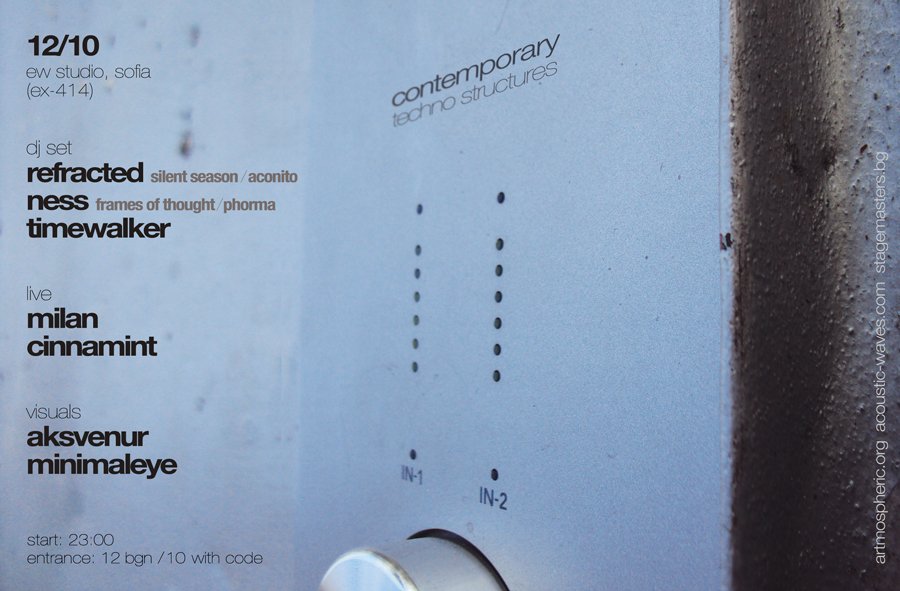 Date
Saturday 12 October 2013 at 11:00pm
Location
Studio 414
Sofia, Bulgaria
Description
*for english scroll below
Предстоящото есенно издание на Contemporary Techno Structures предвижда изобилие на качествена дийп техно музика.
За своя дебют на софийската сцена очакваме испанеца Refracted. В рамките на последната една година Алекс, който в момента живее в Берлин, издаде първата си плоча за Silent Season и две дигитални издания (за Aconito и Reaktivate). Бавни, органични и с добре изпипан звук, работите му без съмнение са сред най-концептуалните в сферата на хипнотичното техно, което излиза в наши дни.
В плана за 12-и октомври влизат също сет на Ness, който е все така активен както с издаването на музика, така и с изявите си по света, последни разработки от Milan и Cinnamint, затварящ сет от друг пристрастен виниломан - Timewalker, както и визия от AksvenuR и minimaleye.
Събота, 12-и октомври, 23ч, EW Studio (бившето студио 414) - вратите отварят в 22ч.
Вход: 12 лв / 10 лв с код
(абонатите на мейлинг листата на Артмосферик могат да го намерят в последното получено писмо)
Елате рано, капацитетът е ограничен до 120 души.
__
The upcoming autumn edition of Contemporary Techno Structures provides a full recharge with high quality deep techno music.
We are looking forward to Refracted's debut appearance in Sofia. During the past year the Berlin-based Spanish artist released some of his "deeply layered rhythms and atmospheric elements" which can surely be counted among the most conceptual hypnotic techno EP's for the period.
October's line-up features also Ness who is still very active in both production and playing music around the world, some live patterns from the latest developments of Milan and Cinnamint, a DJ set by another vinyl-addict - TImewalker and visuals by AksvenuR and minimaleye.
Saturday, Oct 10th, 23h, at EW Studio (ex-Studio 414).
Doors open at 22h.
Entrance: 12 bgn / 10 bgn with discount code
(artmospheric mailing list subscribers can find it in the latest newsletter)
Venue capacity is limited to 120ppl so we recommend you come early.
Don't want to see ads? Upgrade Now