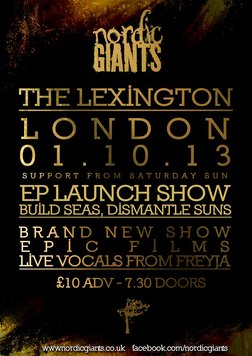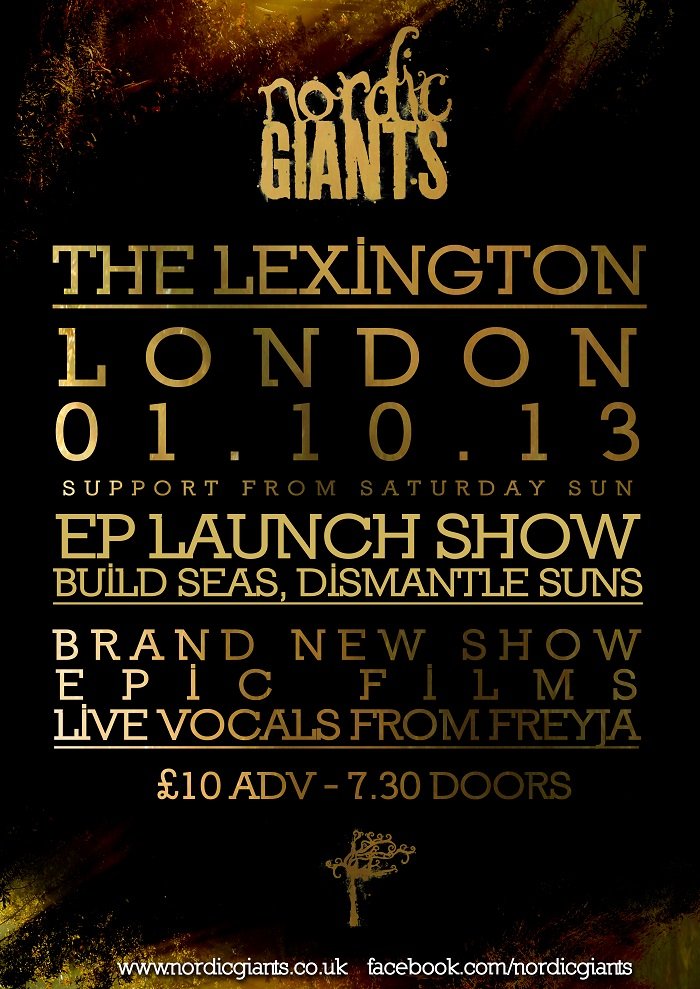 Date
Tuesday 1 October 2013 at 7:30pm
Description
±±± Nordic Giants : The Build Seas, Dismantle Suns EP Launch Party ±±±
Embrace yourself Nordic Army!! - The earth shattering post-rock cinema clatter of Nordic Giants will be haunting stages across the U.K as the band release their double E.P - "Build Seas/Dismantle Suns" and embark on a 20 date Tour.
This event will be the first date, so don't miss your chance to witness new songs, mind blowing new shorts and be one of the first to receive a copy of the new EP and get it signed at this very intimate show.
Featuring Live Vocals from
Freyja
Support from Saturday Sun
http://www.saturdaysunmusic.co.uk/
ABOUT
For those that have not witnessed Nordic Giants - the performance is the thing, as akin to a religious experience that goes far beyond the normal descriptors. Each mind-blowing performance involves a chosen few short films, which are soundtracked live with epic atmospheric soundscapes. Two mythical creatures create an experience with bowed guitar, piano and trumpet that is both haunting and rousing, and climactic, thunderous drums.
Expect the duo covered from head to foot in dark feathered masks and menacing war paint. Expect the stage flooded with powerful strobes, exquisitely timed lights and shrouded in a ubiquitous fog. Expect a multi-screen visual set-up that will resonate you to the point of tears. Lastly expect earth pounding drums and Spin tingling piano riffs - a visceral experience that goes far beyond the imagination of the human hunter-gatherer.
<<<(((0)))>>>
Don't want to see ads? Upgrade Now