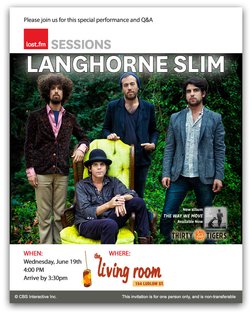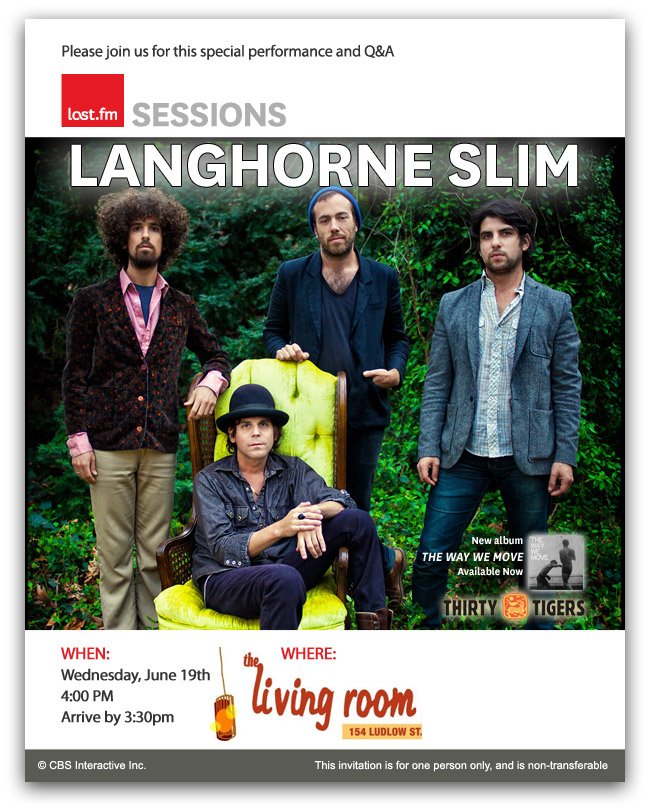 Date
Wednesday 19 June 2013 at 3:00pm
Location
The Living Room
134 Metropolitan Avenue, Brooklyn, New York, 10002, United States
Tel: 212-533-7235
Web: http://www.livingroomny.com/
Description
Join us for a special performance and Q&A with Langhorne Slim on Wednesday, June 19th at The Living Room (154 Ludlow, NYC)
Doors open at 3PM and the show is FREE but please RSVP
Contribute to the Q&A. Tweet your questions @lastfmoriginals #AskSlim and maybe we'll use your words!
There will be many more Last.fm Sessions and Live in NYC shows to attend in the very near future and we hope to welcome all of you at one point or another.
Keep an eye on Last.fm/Originals or follow @lastfmoriginals on twitter to stay on top of any and all show announcements. Thank you all again!
Don't want to see ads? Upgrade Now